Citing federal immunity, judge tosses manslaughter charge for Texas detective …
Charges Against Charles Kleinert Dropped.
On Thursday night, just four days before the former Austin police officer was set to stand trial, a federal judge in Texas dismissed a manslaughter charge against Charles Kleinert in the 2013 shooting death of Larry Jackson Jr., an unarmed black man. Kleinert, who's white, shot Jackson, an African-American, following a foot pursuit and a scuffle after Jackson approached the scene of a bank robbery in Central Austin on July 26, 2013. Federal District Judge Lee Yeakel ruled Kleinert was acting as part of a joint FBI task force on bank robberies, and is entitled to immunity, since he was acting as a federal officer when he pursued and shot Jackson. "I am totally dismayed by today's federal court action dismissing the Charles Kleinert prosecution," Travis County District Attorney Rosemary Lehmberg said in a statement. "With this federal court action dismissing the case, it appears that an Austin Police Department officer can be assigned to a federal task force and avoid prosecution in state court." The attorney for the former police officer says he hopes Lehmberg decides not to appeal, but vows to "vigorously defend the federal court's correct decision" if she does. "The court's decision to dismiss this case is 100 percent correct," Kleinert's attorney Randy Leavitt said in an email. "State prosecutors cannot bring criminal charges to second-guess, Monday morning quarterback, or micromanage the conduct of a federal officer in carrying out his or her duties." "This shows the lengths in which the system will protect a police officer at any cost," attorney Adam Loewy says. "This man murdered Larry by shooting him in the back of the head, where the gun was on Larry's neck." "He was indicted by a Travis County jury, and he just got off on a legal technicality," he says. "That is the way the system is set up in this country and it must change."

Kleinert was one of 54 officers to be charged in connection with a fatal on-duty shooting from 2005 to 2014, according to a Washington Post analysis published earlier this year. It is unclear whether prosecutors will appeal, which could keep the case alive for the next several months as the 5th Circuit Court of Appeals reviews the ruling. Shortly after the shooting – which occurred after Kleinert pursued Jackson first in a commandeered civilian's car and then after that on foot following Kleinert's initial questioning of Jackson for twice trying to enter the Benchmark Bank on 35th Street (which had been broken into earlier in the day) – reports out of APD's camp suggested that the lethal shot may have been accidental. Yeakel said that means the 126-year-old court ruling that protects federal officers from state prosecutions for official actions applies to Kleinert in this case. Immunity exists to avoid such result." Yeakel's order is a major win for Kleinert, whose defense sought to have the case transferred from state court to federal court in a rare legal move this year, so he could pursue the federal immunity defense.

That 19th-century ruling found that the fatal shooting of a suspect in California by a specially deputized U.S. marshal was immune from a murder prosecution because of the "supremacy clause" of the U.S. In an interview Thursday night with the American-Statesman, Kleinert said he was jubilant when he received a phone call from his attorney that the charge had been dismissed. "I'm in the best spirits I've been in for over two years," he said, adding that he hopes being free from a criminal indictment will allow him to find work again in the security or investigations industry after two years of being unable to find work aside from small construction jobs and other manual labor. "It's a very tragic incident for everybody involved," he said. "If I went to jail, their pain isn't going away.

Austin Police have said that Jackson returned to the bank a second time, when he was confronted by Kleinert, a detective who was investigating the robbery. After a few minutes, Jackson ran. "(Kleinert) was breathless and agitated and yelled, 'Go go go' and 'follow him' multiple times," the woman, Regina Bethune, told KVUE, a local television station, in February. "He seemed very out of control and highly agitated. That clause holds that the Constitution and federal laws trump any state law and ensure that states do not "retard, impede, burden, or in any manner control" the execution of federal law. In April, Kleinert went before Judge Yeakel in an effort to transfer his case from Travis County into a federal court, citing the fact that he was working as a member off the Central Texas Violent Crime Task Force, a multi-agency team created by the FBI, and thus should be granted federal-officer removal jurisdiction – removing him from the potentially more liberal county court altogether. However, prosecutors have contended the Kleinert went well beyond his federal purview and behaved recklessly in the encounter with Jackson – in part by using a civilian's car to chase him and having his gun drawn as the two got into a struggle.

Meanwhile, Adam Loewy, an attorney for Jackson's family, said he will ask the Justice Department to assign a prosecutor to begin a federal civil rights investigation and prosecution. In a 27-page opinion, Judge Yeakel concluded that the state's assertion that Kleinert should not be entitled to Supremacy Clause immunity because Kleinert's interactions were not within his federal-task-force duties is not concurrent with the law, and that "by virtue of Kleinert's deputation, he was authorized to investigate federal crimes committed in his presence. "Kleinert had ample cause to believe Jackson was attempting to wrongfully obtain funds from the bank," he continued. "Jackson's fleeing the conversation with Kleinert further indicated that Jackson's purpose at the bank was different from the way he described it [when questioned upon attempted entrance.

The judge agreed with Kleinert despite the fact he flagged down a car and yelled at the driver: "Austin police – stop!" and showed her his Austin police ID badge before ordering her to help him chase Jackson. When the driver asked if Jackson was dangerous, Kleinert replied: "No." After getting out of the car and chasing on foot Kleinert caught up to Jackson and struck him twice before firing his gun, which he claimed was accidental.

Kleinert, who became the first officer to be indicted for an on-duty shooting in more than a decade, pleaded not guilty in December to Jackson's shooting. Texas prosecutors said Jackson was "unarmed, fleeing and posed no threat of serious physical harm to anyone", and that Kleinert's actions violated Austin police policies. During Kleinert's last hearing this month, his defense tried to show that all of the actions Kleinert took had been necessary to arrest Jackson and that they fell within the scope of his federal law enforcement duties. Constitution was intended to provide a consistent legal standard for federal officers, who often must travel across state borders and thus can face an array of state laws governing their conduct.

In his ruling Thursday, he called Kleinert's decision to go after Jackson with a gun in hand questionable, but "questionable conduct or decision making is not before the court." And at that split second, Kleinert faced a choice whether to apprehend Jackson while continuing to hold his firearm or to stop, take his eyes off Jackson and holster his weapon before continuing his pursuit. "At that instant, Kleinert believed that he could not do both," Yeakel wrote. "Kleinert testified, if he took his eyes off Jackson to reholster his firearm, Kleinert believed Jackson would run again." Using a plastic gun and a replica of the rough terrain in which their encounter had occurred, Kleinert and one of his lawyers attempted to retrace the fall that Kleinert said had caused him to accidentally kill Jackson.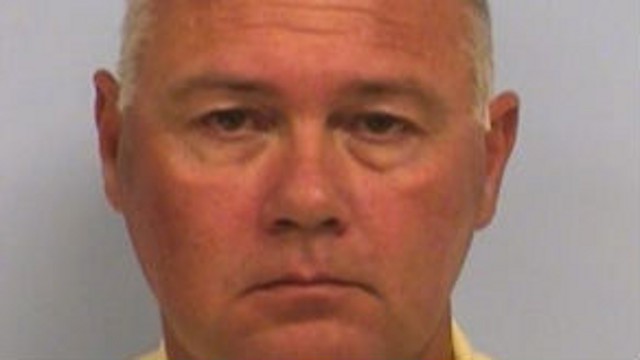 Share this article: