NYC mayor, police boss mark year since officers were slain
'Their sacrifice was not in vain': slain NYPD officers honored.
NEW YORK (CBSNewYork/AP) — Accompanied by the sounds of bagpipes and sobs, city officials, family members and police on Sunday honored the lives of two officers who were shot to death a year ago while in their cruiser. The widows of Officers Wenjian Liu and Rafael Ramos led dozens of mourners Saturday in tearfully marking their first year without the two murdered cops.Friends, colleagues and family members will gather at the 84th Precinct in Brooklyn later today to dedicate a plaque to the fallen officers, and then lay a wreath at the site of their shootings. "I know that my husband, that God decided it's his time to rise and he's sitting with him now and that brings comfort to me knowing that he's with the Lord," said widow Maritza Ramos. "There's no words that can comfort us, and they say that time heals all wounds," said sister Cindy Ramos. "I don't know if I'm there yet but I pray to God that he gives me the strength to get through everything."

The loved ones and colleagues of the officers — who were executed as they sat in their squad car in Bedford-Stuyvesant, Brooklyn, on Dec. 20, 2014 — joined the mayor and commish at the slain cops' 84th Precinct station house, where two memorial plaques were unveiled in Ramos and Liu's honor. "[Ramos and Liu] were faithful to all that is good," Bratton said. "These memorial plaques will be mounted in the station house for all times, so that anyone that enters this station house will be reminded of their sacrifice." Bratton said their deaths marked a turning point in a dangerous anti-cop movement that had been poisoning America: "Their sacrifice was not in vain. A large band and full choir filled the Christ Tabernacle Church with hymns as pictures of the partners were shown on large screens hung above the altar. "I just want to thank everyone for their love and support," said Maritza Ramos, the high school sweetheart and wife of Rafael. "This year has been a tremendous roller-coaster for our families. "We can't even put into words how difficult this year has been for us.

Hundreds of officers in dress uniform, many in tears, stood listening to Liu's father, Wei Tang Liu, bent over in grief and sobbing as he spoke in Chinese about his only child. Liu's wife, Sandy Liu, translated, breaking down as she spoke her father-in-law's words: "Before my son's death, I would hear his voice every day for the past 33 years of his life." The two officers were shot at point-blank range through their cruiser window. He had posted on Instagram that he wanted to put "wings on pigs" and referenced Eric Garner, whose police chokehold death led to protests against the New York Police Department.

The NYPD later posthumously promoted them to first-grade detective, which boosts the benefits their families receive. "These families will continue to inspire us by their very presence," de Blasio said, with the men's loves ones sitting in the front row before him. Police Commissioner William Bratton said the deaths had the effect of stymieing protests of police that were gaining momentum nationwide — demonstrations against police misconduct, events at which some advocated violence against officers. Bratton posted about the slain officers Sunday on Twitter, writing "One year later we remain faithful to our vow that we will #NeverForget our fallen heroes, Detectives Ramos & Liu." (TM and © Copyright 2015 CBS Radio Inc. and its relevant subsidiaries. In the year since the killings, tensions have eased between the police labor unions and the mayor, whose winning 2013 mayoral campaign centered on criticizing the NYPD's treatment of young black and Latino men. My husband cries every day without him." One cabinet in the house is dedicated to all of Liu's achievements — trophies, plaques, his posthumous NYPD Medal of Honor.

Those tensions exploded the day of the shootings, when cops at the hospital where Liu and Ramos were being treated turned their backs on de Blasio in a sign of disrespect — a protest repeated by some outside Liu's and Ramos' funeral. Co-workers remembered a cop who preferred talking through problems to blunt force. "At one time there was a kid from Queens who was lost in our neighborhood," his mother remembered. "He was hungry, so my son took him to McDonald's and fed him. I don't think that's what he would have wanted." Justin found it tough to return to Bowdoin College in Maine, where he majors in government and legal studies — but was inspired by his father's lingering presence, his mom says.

Rafael Ramos and Justin went through the whole college application process as a team, and the father was "super excited when he got accepted," Maritza recalled. This year, the Ramos family plans to celebrate Christmas with a meal featuring their slain patriarch's favorite holiday foods, including potato salad and the pork and rice dish, arroz con gandules. And they received $760,00 from the Daily News and its generous readers, which includes a $200,000 donation from the Mayor's Fund to Advance New York City. "I'm retired.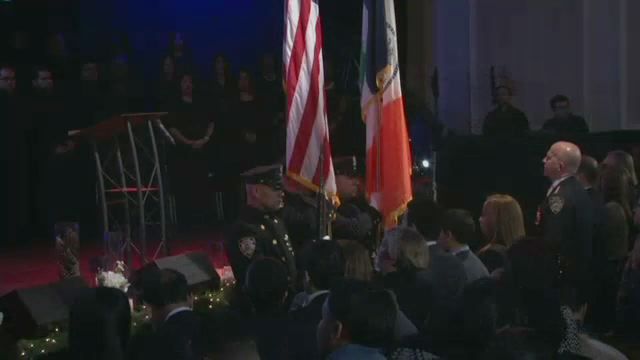 Share this article: