Sports
"10 on Dumb" – NASCAR's Nice Guy Chase Elliott Roasted Interviewer for Hilarious Presumption About Racing Once
Mystery still surrounds the world of motorsport with plenty of people still not knowing the deep technicalities. But there are some things that are quite basic and well-known, and yet people don't understand that. So, Chase Elliott took it upon himself to make sure it's known.
ADVERTISEMENT
Article continues below this ad
Because back in 2020, Elliott roasted an interviewer who asked something he thought was very dumb.
ADVERTISEMENT
Article continues below this ad
Radio is a very essential part of any race car, it serves as a crucial component of information exchange between drivers and teams. But the function of the radio is very different from the average road car. Unlike a road car, a race car radio wouldn't play Mariah Carey on repeat the entire holiday. Oh no, it's very different, but Elliott's response gives a good idea of what their radio is like.
They featured Elliott on an episode of the "Brilliantly Dumb Show" in the same year he won his cup series title. And the interviewer asked, "I'm going to throw another question at you. And if you could, I want you to answer the question and then give me a one to ten rating on how ridiculous the question is. Okay. You're driving around the track. Are you allowed to turn the radio on?"
To which the Cup Champion responded by giving a 10 on the dumb scale! He said, "No radio pal. it's 1o on Dumb. There's no radio to turn on. I hate to break that to you." Which led the interviewer to question, "You can't throw in a couple of headphones or something. There's nothing you like to listen to?"
Elliott replied, "Unfortunately not. It's just you just, you know, all-natural sounds."
WATCH THIS STORY: 5 Times Drivers Miraculously Survived Lethal Crashes
So what does it really do?
What's the purpose of Radio in race cars that Chase Elliott talked about?
ADVERTISEMENT
Article continues below this ad
As discussed earlier, the radio is an essential part of all communications between the driver and their team. The radio is better known as the communication system which functions on radio signals. Nope, not the FM radios, but the radio waves that transmit the voices from the garage to the car.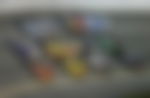 The radio or "comms" button is a big red button on the driver's steering wheel which they press and hold to talk to the spotter or the crew. Generally, the spotter is feeding all information through that radio in which the voices go straight into the noise-canceling in-ears drivers get custom-made for their ears.
ADVERTISEMENT
Article continues below this ad
DIVE DEEPER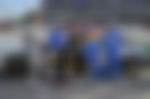 In turn, the drivers themselves can hold the button to talk back with their team and that's pretty much how radio functions in a stock car. Of course, the importance of a radio system in a race car is pretty high, and having a faulty comms system is "game over". All important information from pitstop strategy, to who is coming to take them out is addressed through the comms.