Sports
2023 NFL Mock Draft: Lions snag Anthony Richardson early in first round; Colts trade up to No. 1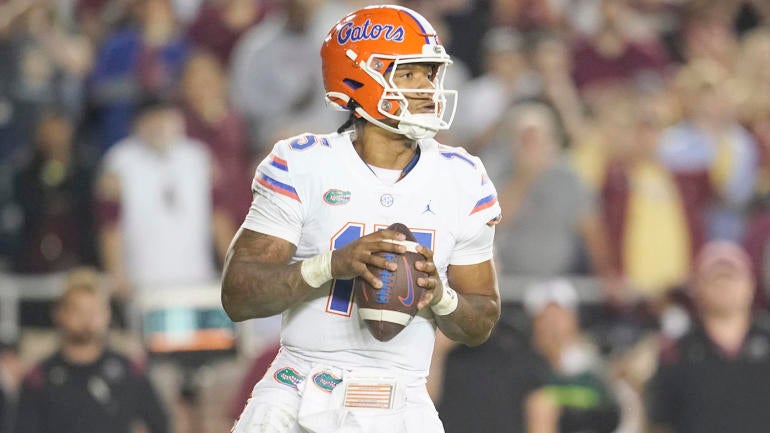 Getty Images
You can never fault NFL teams for being aggressive, especially when it comes to the quarterback position. 
Just look at the two clubs we saw playing in the Super Bowl a few weeks ago. Back in 2017, the Chiefs swung for the fences and hit a home run by trading multiple picks (including two first-rounders) to get to No. 10 overall to select Patrick Mahomes. With the Eagles, they continued taking stabs at the position even after signing Carson Wentz to a big extension that included over $100 million in guaranteed money in 2019. That very next offseason, they drafted Jalen Hurts in the second round, and the former Oklahoma signal-caller just finished up an MVP-caliber season in 2022. Each of those were bold moves that ultimately had them playing for a championship. 
So, the moral to that story is that teams should push the envelop at the position, and I have two clubs doing just that in this mock draft. First, the Indianapolis Colts vault up to the No. 1 overall pick in a trade with the Chicago Bears, who are likely to move this pick when its all said and done, according to CBS Sports NFL Insider Jonathan Jones. Indy gets its franchise quarterback in Alabama's Bryce Young while giving up a slew of picks, including No. 4 overall, a 2024 first and a few more Day 2 selections sprinkled between this draft and next year. 
Next up, the Detroit Lions pull off the stunner of this mock by going with a quarterback at No. 6 overall, taking Florida's Anthony Richardson. As CBS Sports NFL Draft analyst Ryan Wilson and others note, Richardson is raw but has a tremendous ceiling. Isn't that perfect for a team like Detroit with an established veteran quarterback in Jared Goff? Richardson would be afforded the necessary time to develop, while the Lions contend in 2023 with Goff as its starter. Because Detroit is building a solid foundation, its no guarantee that it will be in a position to take a quarterback this high again. I have the Lions taking a big swing early in the first. 
With those notable moves fleshed out, let's get to the full first-round mock. 
Our Latest NFL Stories