Entertainment
Battle it Out with Your Friends in the Biggest 'Marvel Snap' Update Yet

Look, I haven't been hiding my enjoyment of Marvel Snap (Free) at all so far. It's one of my favorite mobile games of the last few years, and every new card or feature added to the game just makes me appreciate it even more. It rides the line between fan service and clever gameplay just perfectly, and even if it never had any new major features added I would still be satisfied with it. But you know who isn't satisfied with it yet? The developers at Second Dinner. They've got plenty of updates in the pipeline, and the one hitting today is probably the biggest we've seen so far. Are you ready for Battle Mode?
The Battle Mode update, available today, adds a brand new mode to the game. Battle Mode allows you to finally go up against your buddies instead of just random opponents. Share your Battle Code with your friends and you'll be able to throw your finest decks at them to see who's really the best. While Battle Mode probably could have gotten away with just allowing single matches between players, there's a little more to it than that. After all, there wouldn't be much point in Snapping in such games, and without Snapping is it really Marvel Snap?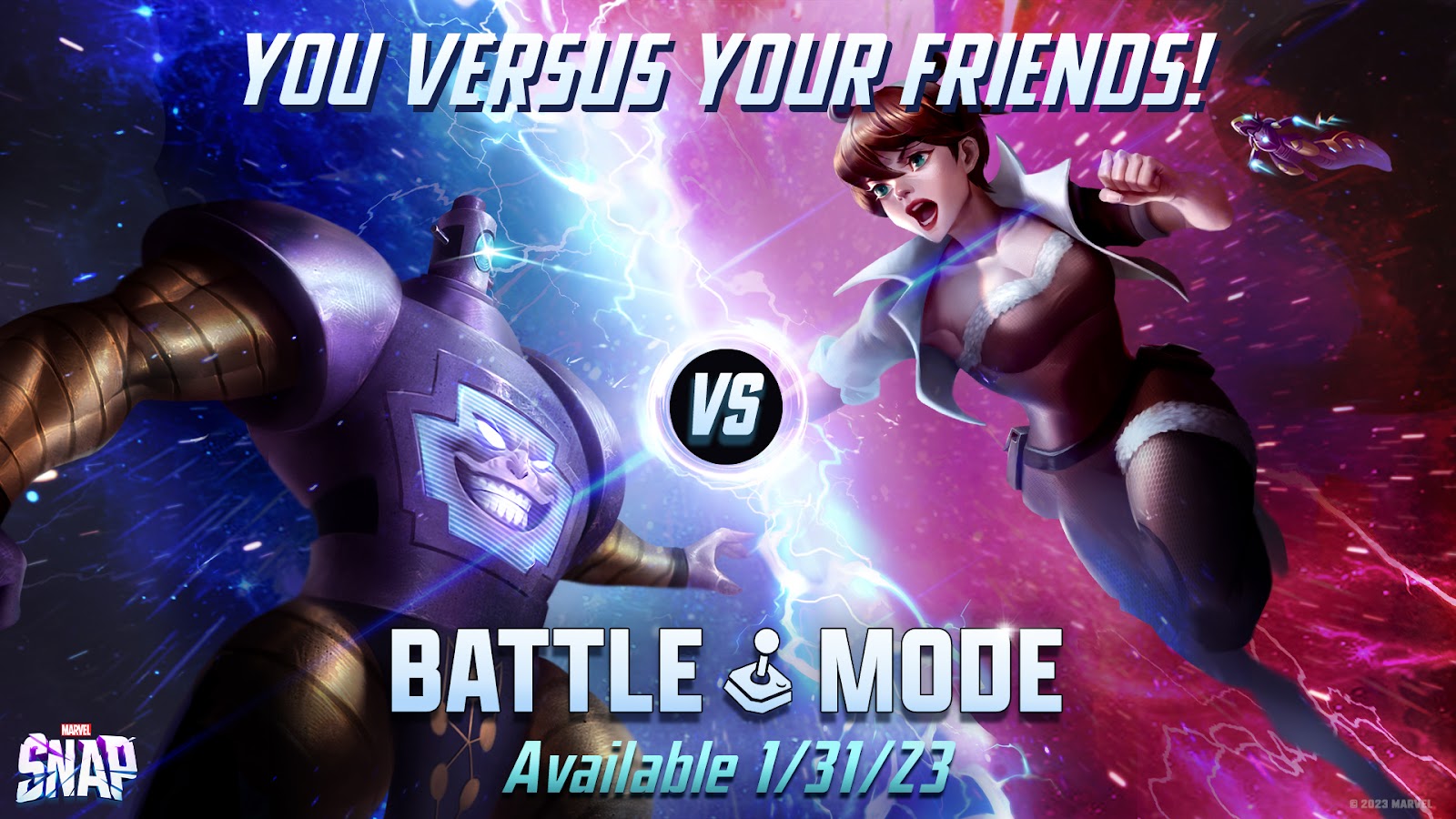 So here is how it works. Both players are given 10 Health units. You'll play multiple games until one player's Health units drop to zero. You can probably guess where it goes from here. Each match sees the victor deal damage to the loser, starting with one point of Health but doubling with each Snap. Stakes! People love stakes with Marvel stuff, I'm told. All in all, it sounds like an exciting way to play against friends while still maintaining the edge of the regular matches. Battle Mode will see further updates and additions over time, so this is only the start.
That's about it, but I'm sure there will be other miscellaneous bits and bobs in the update that we will go over in the next updates round-up. And hey, if you're looking for some new friends to fight with in the new Battle Mode, you could probably swing by the TouchArcade forums to share your Battle Code. It's great to see such a fun game keep getting better, and I can't wait to see what this team will come up with next.

MARVEL SNAP
Unleash the entire Marvel Multiverse in this fast-paced card battler.
Assemble your MARVEL dream team from a super rost…