Sports
Boiler Upload Podcast Episode 10: Welcome to 2023
{{ timeAgo('2023-01-10 07:00:00 -0600') }}
football
Edit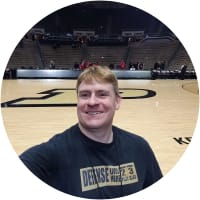 Travis Miller
•
BoilerUpload

Publisher
Travis Miller is the publisher of Boiler Upload, the new home of Purdue sports on the Rivals.com network.
The Boiler Upload Podcast is back! It has been a busy couple of weeks with the holidays, football, basketball, and more going on, but Travis, Kyle, and Jace are back each week now through at least basketball season and ready to discuss Purdue. This episode is a football-centric podcast, including:
– How well is Purdue looking in the transfer portal?
– How well has Ryan Walters done to keep the roster mostly intact with returning players?
– What does the quarterback situation look like with Brady Allen returning?
– What does it mean to have such a young coaching staff?
– Who steps up at receiver and running back aside from TJ Sheffield and Devin Mockobee?
– Finally, we discuss the Texas basketball opening and what it means for Matt Painter (hint: very likely nothing).