Sports
Celtics' Jayson Tatum ejected late as Knicks extend winning streak to six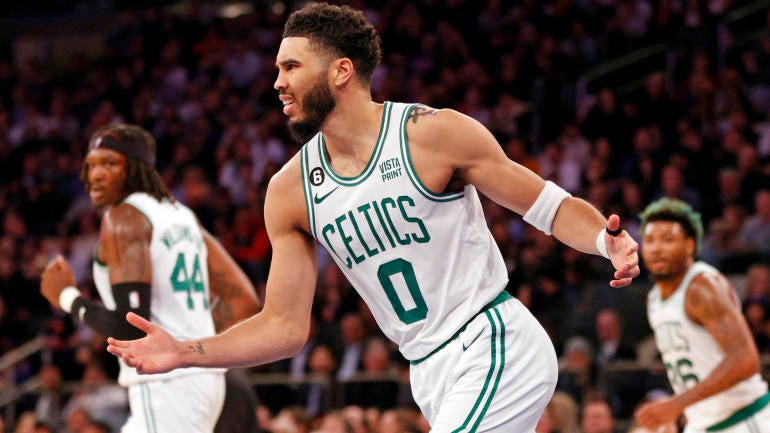 Sarah Stier / Getty Images
Just about everything that could have gone wrong for the Boston Celtics wound up going wrong in a 109-94 defeat at the hands of the New York Knicks. Jaylen Brown missed the game for personal reasons, though he is expected to return on Wednesday. The Celtics shot a meager 9-of-42 from 3-point range. Their defeat handed the 43-17 Milwaukee Bucks, owners of an NBA-best 14-game winning streak, control of the No. 1 seed in the Eastern Conference.
And apparently, all of that frustration boiled over for Celtics star Jayson Tatum. The MVP candidate picked up his first technical foul in the third quarter and was then ejected with roughly four minutes left in the fourth after being given his second. Tatum felt he had been fouled on a shot attempt, and after Josh Hart hit a 3-pointer on the other end of the floor, the officials tossed him for his complaints.
The ejection was the first of Tatum's career to come in a regular-season game, though in 2022, he was also thrown out of a preseason contest. Trailing by double digits at the time and without Brown, Boston had little hope of achieving a comeback anyway, so it was relatively low-stakes as ejections go.
Boston's loss was New York's gain. The Knicks have won six games in a row, making them undefeated since acquiring Hart at the deadline. They currently occupy the No. 5 seed in the Eastern Conference. With No. 6 Brooklyn reeling following their deadline rebuild, the Knicks should be able to avoid the play-in round this postseason comfortably.
The Celtics won't have to wait long for a chance at revenge against New York. The Knicks will travel to Boston on Sunday for the year's final matchup between these two teams. The playoff bracket as it currently stands makes it unlikely that they will meet in the postseason, but with Brown likely coming back on Sunday, Tatum and the Celtics will have a chance to reassert their dominance over the Knicks over the weekend.