Sports
Chelsea vs. Borussia Dortmund Champions League player ratings: Raheem Sterling steps up; Gio Reyna disappoints
Here's how all the players who featured performed along with scores for the managers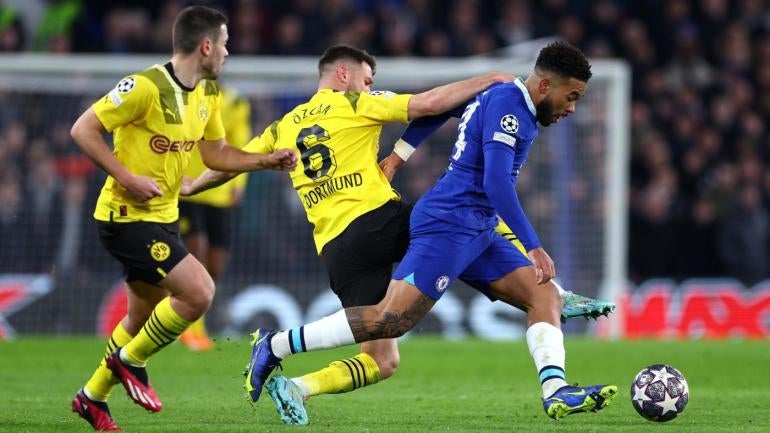 Getty Images
Chelsea find themselves through to the last eight of the Champions League after seeing off Borussia Dortmund on Tuesday in their round of 16 second leg, 2-0 (2-1 on aggregate). Goals from Raheem Sterling and Kai Havertz paced the Blues, who managed to overcome a 1-0 defeat in the first leg to knock out the Germans, who had their chances but lacked the final product, snapping an 11-game winning streak.
The victory means the Blues will now play in the quarterfinals next month against an opponent to be determined. Benfica also advanced on Tuesday, defeating Club Brugge 5-1 to win 7-1 on aggregate. 
You can watch the Champions League live all season long on Paramount+. 
How did everybody perform in this one? Here are our player ratings:
Please check the opt-in box to acknowledge that you would like to subscribe.
Thanks for signing up!

Keep an eye on your inbox.

Sorry!

There was an error processing your subscription.

CBS Sports has a brand new daily soccer podcast, covering everything you need to know about the beautiful game. Make sure to give House of Champions a follow for coverage of the biggest games, stories, transfer news with Fabrizio Romano, and everything else going on in the world's most popular sport.
Chelsea player ratings
| Name | Minutes | How did they do? | Rating |
| --- | --- | --- | --- |
| (GK) Kepa Arriabalaga | 90 | A strong performance by the Spaniard. Made a fantastic save on a Marco Reus free kick and another fine one at the near post from Marius Wolf. A sure thing. | 7.5 |
| (DEF) Wesley Fofana | 90 | May have just saved his team with a last-gasp dive at the ball in the dying moments, blocking a shot that Kepa controlled confidently. Was a tad inconsistent but was there when needed. | 7 |
| (DEF) Kalidou Koulibaly | 90 | In attack he missed an open goal on a ball that caught him off guard, and he won't want to see the replay. Defensively, he was fairly stout but at times was beaten unexpectedly in the air. | 6.5 |
| (DEF) Marc Cucurella | 90 | The effort was always there, but his long balls forward were way off target. Intercepted the ball four times and recovered it eight but didn't time his tackles all that well. | 6 |
| (DEF) Reece James | 90 | Sharp on both ends, timing so many of his moments well. Moved into space smartly to open up areas and played dangerous balls in that just lacked a little bit of accuracy. | 6.5 |
| (DEF) Ben Chilwell | 90 | Lively down the left and did well to play a great ball into the heart of the box to set up Raheem Sterling. Also won a penalty kick. Effective.  | 7.5 |
| (MID) Mateo Kovacic | 83 | Not the most impressive of displays, connecting on just 69% of his passes, but he was always willing to go in hard with determination. Struggled big time in the air but it didn't cost his team. | 6 |
| (MID) Enzo Fernandez | 87 | Such an elegant player, who probably expected to see the ball a tad more. His ability to do a bit of everything was evident, though there was nothing overly flashy. Just did his part. | 7 |
| (FDW) Raheem Sterling | 83 | ⚽ 43′ Kept his focus to rebound after a poor shot attempt to bury one with pace, and it was a goal the team deserved and needed, ending the goal drought. Had one shot and took it, doing exactly what was asked of him. | 8 |
| (FWD) Joao Felix | 67 | Nice little performance from the Portugal international. Showed flashes, created a chance and had a couple decent looks at goal. Always managed to get the ball off his feet. | 7 |
| (FWD) Kai Havertz | 90 | ⚽ 53′ (pen) Hit post with a great shot in first half and then doinked his penalty kick off the post again early in the second half. Luckily for him, he got to retake and put it away. Looked sharp and moved into paths well to generate attacking opportunities. | 7.5 |
| Substitutes | Replaced | How did they do? | Rating |
| Conor Gallagher | Felix (67′) | Nearly scored but was called back due to Sterling being offside. Moved plenty, got into tackles and brought some energy that was needed off the bench. | 6 |
| Ruben Loftun-Cheek | Sterling (83′) | Late sub who didn't misplace a pass and had a block and clearance. | 6 |
| Christian Pulisic | Kovacic (83′) | A little sloppy while trying to waste time, but otherwise had some decent vertical runs. | 6 |
| Denis Zakaria | Enzo Fernandez (87′) | Late time-wasting substitution. | N/A |
| Manager | Subs used | How did the manager do? | Rating |
| Graham Potter | 4 | One of the team's better performances in a while. Ended goal drought by getting two, and there are reasons to be optimistic about what is to come. It's on him to keep them believing.  | 7 |
Borussia Dortmund player ratings
| Name | Minutes | How did they do? | Rating |
| --- | --- | --- | --- |
| (GK) Alexander Meyer | 90 | It was a busy night. After an early save to deny Joao Felix, he was beaten by Kai Havertz and then saved by the post before making a smart save from his fellow German. The woodwork came to the rescue again for Havertz's penalty, but the retake was converted. | 7 |
| (DEF) Marius Wolf | 90 | Guilty of the handball which gave Chelsea the penalty for their second goal. It was clumsy and could have been avoided, although he could have made up for it when Kepa denied him a goal twice in the second half. Late booking as he turned pantomime villain at the end. | 6 |
| (DEF) Niklas Sule | 90 | Rarely looks convincing in his movement and that continued here. The German was booked in the first half and was perhaps wary of that during the second as Chelsea got forward. | 5 |
| (DEF) Nico Schlotterbeck | 90 | Not the easiest of outings, but he was more convincing than some of his fellow defenders when facing up to the Chelsea attack. | 7 |
| (DEF) Raphael Guerreiro | 90 | Looked more comfortable getting forward than helping out defensively, but was unable to create too many openings out wide. | 6 |
| (MID) Emre Can | 90 | Got lucky with no foul being given on Kai Havertz early on for a penalty shout, but delivered a disciplined display overall. | 7 |
| (MID) Julian Brandt | 5 | Subbed off for Reyna just minutes in through injury. Given his good recent form, arguably a game-changing blow for the Germans. | 5 |
| (MID) Jude Bellingham | 90 | He was involved at times and fired wide in the second half when he probably should have hit the target. However, it was not the dominant display he would have wanted against Premier League opposition. Booked late on as things got heated. | 7 |
| (MID) Salih Ozcan | 64 | He was guilty of booting the ball away after encroaching for Kai Havertz's missed penalty which meant the retake. Otherwise, Edin Terzic brought him off to inject some pace into the team. | 6 |
| (MID) Marco Reus | 90 | Saw a great free kick effort saved by Kepa in the first half, but undone by Raheem Sterling on the opening goal. After Kai Havertz's penalty, it was tough to get back into the game. | 6 |
| (FWD) Sebastien Haller | 77 | A tough night for the Ivory Coast international who cut a frustrated figure at times as he had little service to feed upon, not registering a single shot while completing only 60% of his passes. | 5 |
| Substitutes | Replaced | How did they do? | Rating |
| Gio Reyna  | Brandt (5′) | Started well and was lively before he put in a good low cross which went unmet. However, he faded as the game went on and looked short of full game fitness. | 6 |
| Jamie Bynoe Gittens | Ozcan (64′) | Was given 26 minutes to make an impact and added a bit of pace against one of his former clubs. However, it was not enough to unlock the Blues' back line. | 5 |
| Donyell Malen | Haller (77′) | Sent on for 13 minutes and generally looked bright which suggests that Terzic might have thrown him on earlier. | 6 |
| Manager | Subs used | How did the manager do? | Rating |
| Edin Terzic | 3 | A bit limited in terms of what he could do from the bench and suffered a bitter blow in losing Brandt early on. Unlucky with the nature of the loss, but equally Dortmund rarely threatened outside of Reus and Reyna in the first half. | 6 |
Dortmund ratings
Our Latest Champions League Stories