Business
China stresses need for tech reliance, firms should lead innovation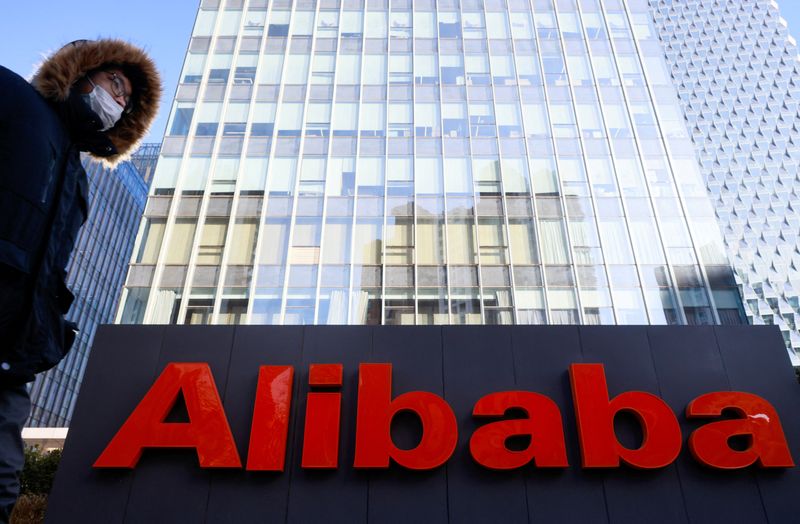 © Reuters. FILE PHOTO: The logo of Alibaba Group is seen at its office in Beijing, China January 5, 2021. REUTERS/Thomas Peter/File Photo

By Eduardo Baptista and Brenda Goh
SHANGHAI (Reuters) – China's science and technology policies should aim to build the country's strength and self-reliance, while companies take the lead in pushing innovation, Premier Li Keqiang said on Sunday.
The country effectively countered external attempts to suppress and contain China's development over the past five years by promoting development of the real economy through innovation and fostering new drivers of growth, he said.
"Scientific and technological policies should aim at building up our country's strength and self-reliance in science and technology," the outgoing premier said in his work report to the opening of the annual meeting of China's parliament.
"The new system for mobilizing resources nationwide should be improved, we should better leverage the role of the government in pooling resources to make key technological breakthroughs and enterprises should be the principal actors in innovation."
China is under increasing pressure from the U.S., which has cited national security in restricting access to Chinese semiconductors and artificial intelligence technology.
President Xi Jinping has urged the country to strengthen its self-reliance in science and technology and continue to strive as a global tech power.
Li said China should accelerate the research and development of cutting-edge technologies and promote their application. The development of the platform economy should be supported and regular oversight should be conducted, he added.
The platform economy comprises China's largest tech companies, such as Alibaba (NYSE:) Group and Tencent Holdings (OTC:). Such firms were the targets of a long, bruising regulatory crackdown that Beijing says it is now easing.