Entertainment
David Lindley, legendary multi-instrumentalist and slide guitar master, dies aged 78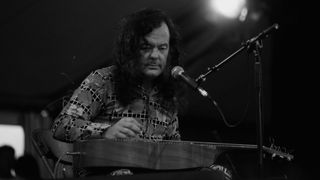 (Image credit: David Redfern/Redferns)

David Lindley, the LA session guitarist and multi-instrumentalist best known for his slide guitar work with Jackson Browne, has died at the age of 78.
His death was confirmed to the LA Times (opens in new tab) on March 3, although no cause of death was given.
Lindley's love of stringed instruments took hold in his teens when he picked up the baritone ukulele, before quickly moving on to the banjo and fiddle.
Inspired by his father's love of Korean folk and Indian sitar music, Lindley went on to master a breathtaking range of instruments, spanning guitar in all its forms, as well as mandolin and more esoteric stringed apparatus, including the bouzouki, cittern, charango and zither.
"I developed the ability to watch how people were doing things and come as close to it as I possibly could and get the sound," Lindley reflected of his irrepressible thirst for learning in a 2005 interview (opens in new tab).
"Ry Cooder and Taj Mahal are all in the audience and we were all doing the same thing. We all went to watch people play at [famed California venue] Ash Grove and sat down with them afterwards and asked, 'How do you play this?'"
Yet it was lap steel that became Lindley's calling card after his psychedelic outfit Kaleidoscope broke up and he joined Jackson Browne for a string of albums, starting with 1973's For Everyman.
His extended solos quickly became a highlight of Browne's live shows, blending lyrical phrasing with licks steeped in folk and country tradition. His lap steel technique was something few performers could match, and became a touchstone for every aspiring slide player who followed.
The pair would collaborate many times over the years, and Browne would go on to produce the first album by Lindley's own band, El Rayo-X, in 1981.
Countless artists benefited from Lindley's unique touch, with his playing appearing on albums by David Crosby, Graham Nash, Dolly Parton, Bob Dylan, Bruce Springsteen, Joe Walsh, Rod Stewart, Ben Harper and many more. He also teamed up with another slide master, Ry Cooder, in the late-'70s for his Jazz and Bop Till You Drop albums.
Throughout his career, Lindley relied on a wide assortment of guitars, many of which would typically be classified as pawn-shop guitars today, including models by National, Teisco and Sears.
He continued to release solo material throughout the '90s and 2000s, reuniting with Jackson Browne for a tour of Spain in 2006, documented on the live release, Love Is Strange: En Vivo Con Tino.
His lasting influence has been acknowledged across the guitar world, with Joe Bonamassa stating (opens in new tab), "He changed the game for all of us. Rest in peace sir."
"The loss of David Lindley is a huge one," echoed Jason Isbell (opens in new tab). "Without his influence my music would sound completely different. I was genuinely obsessed with his playing from the first time I heard it."
"He was a giant among musicians," said Peter Frampton (opens in new tab). "Always his unique sound and style gave him away in one note."
Former collaborator Graham Nash perhaps best surmised Lindley's monumental talent (opens in new tab): "One of the most talented musicians there has ever been. David could play pretty much any instrument you put in front of him with incredible versatility and expression. He was truly a musician's musician and has been admired with awe and respect for such a long time now.
"He was also a wonderful person and a friend. He is going to be very missed. My heart and love go out to his family and to everyone who loved him so."
Thank you for reading 5 articles this month*
Join now for unlimited access
US pricing $3.99 per month or $39.00 per year
UK pricing £2.99 per month or £29.00 per year 
Europe pricing €3.49 per month or €34.00 per year
*Read 5 free articles per month without a subscription
Join now for unlimited access
Prices from £2.99/$3.99/€3.49