Technology
Galaxy A54 Bolsters Samsung's Mid-Range With Enhanced OIS And A Small Price Bump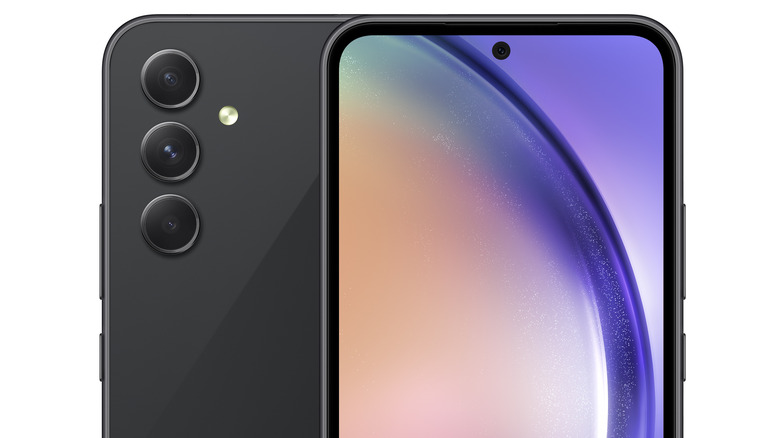 Samsung
Samsung's latest contribution to the mid-range phone market has been announced. The new Galaxy A54 5G is set to hit the shelves next month, and it seems to be a solid choice for anyone who wants to put a lot of power in their pocket without blowing over $1,000 on a flagship device.
Compromising on price no longer means compromising on quality, and the mid-range phone market has long represented excellent value. A good example of this is screen quality, and the Samsung A54 5G remains true to trend here. You get a 6.4-inch FHD+ Super AMOLED display with an enhanced Vision Booster and a refresh rate of 120 Hz. The 5,000 mAh processor is on par with many flagship models, and the octa-core processor should be able to handle everyday tasks, video editing, and most gaming duties, with ease.
The A54 5G comes with 6 GB of RAM, and 128 GB of internal storage. As well, the A54 can still do something a flagship can't — take a micro SD card. You can slap an extra terabyte in there if you need to. And, as if the name didn't give it away, the phone also has 5G connectivity as standard. The device comes in two distinct styles: a color Samsung calls "Awesome Violet" and another called "Awesome Graphite." But there is far more to the A54 5G than the color of its case.
The cameras are where it counts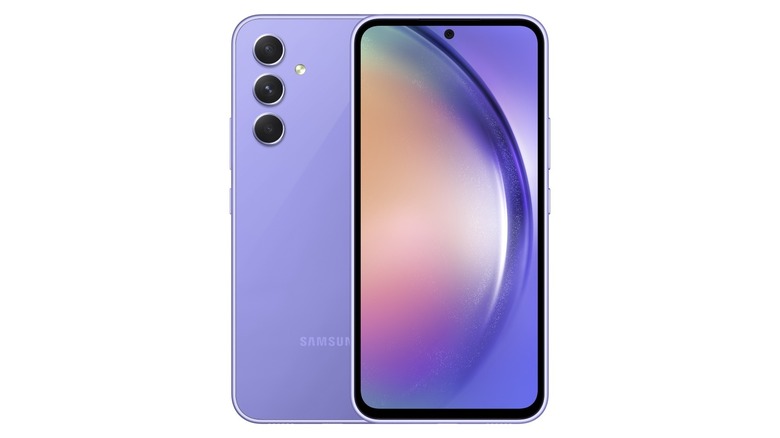 Samsung
A good mid-range phone is more than powerful enough to handle pretty much every task you can reasonably expect a smartphone to handle in 2023. So what sets a flagship apart from something less than half the price? The cameras are what usually separates a high-end smartphone from something cheaper. But on the A54 5G that line, not the image itself, is a bit blurry. Samsung is aware of how much good camera quality matters, and has gone all out on the A54. 
On the front, you have a 32 MP front camera set at f2.2. Megapixels aren't everything, but that is 20 more than you get with the flagship S23 range. Just as with the more expensive models, the back contains three cameras — a main, ultrawide, and macro camera in this case. The main camera is 50 megapixels, the ultra-wide is 12, and the macro camera is 5. Samsung promises that its array of cameras, which make use of the company's " leading Nightography and AI capabilities," are capable of delivering "stunning images with clear quality even in low light conditions."
Again, cameras set these phones apart and low-light photography is what tends to separate a good camera from an average one. Improved versions of Samsung's optical image stabilization and video digital image stabilization are also on hand to keep everything steady, even when the user is a touch shaky. You can pre-order an A54 5G from March 30, with the phone itself coming out on April 6. Prices start from $449.99, with Samsung.com and Samsung Experience Stores selling an unlocked version. Various deals are also available from major carriers.