Sports
"I Felt My Soul Leave My Body": George Kittle's Wife Shares Heartbreaking Incident of Losing Unborn Child Amidst NFL Playoff
As the whole world enjoyed Valentine's day with their special ones, Claire Kittle, who is the wife of George Kittle, shared a sad truth about her life. In an emotional post, Claire Kittle revealed the miscarriage she had last month. For her, it was one of the hardest moments in her life. And it had such an impact on her that she felt as if her soul had been ripped from her body. She, recently, opened up about that phase of her life.
This is something that one of the best football players Cristiano Ronaldo went through last year. He ended up losing one of his twins moments after he came into our world.
The moment she discovered about it
ADVERTISEMENT
Article continues below this ad
It was the time for festivities. The whole world was engrossed in the Christmas celebration. Just three weeks before the Niners were ready to begin their playoff journey, she told the whole world about her pregnancy. Her whole family celebrated that moment with smiles and hugs. 
Just four days were left. George and the Niners were going to play against the Seahawks in the Wild card round. She went for a routine checkup and her whole world turned upside down.
"The nurse giving my ultrasound went silent for a while. I asked 'I'm still early there's probably nothing to see yet right?'" Claire said. "She responded with 'I see a pregnancy here it's just not in the correct place, it's ectopic. I felt my soul leave my body," Claire Kittle TMZ Sports
After this revelation, she went for surgery. But eventually, she lost her child. 
ADVERTISEMENT
Article continues below this ad
George Kittle still gave his all on the field
Even after facing a tragedy in his personal life, George Kittle played all three games for Niners. With a heavy heart, he kept his head in the game. Even after completing ten catches in three games, the Niners couldn't get across the finish line.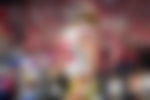 In the end, the purpose behind sharing this story was to spread a message around the whole world. The message is quite simple with love you can face any difficulty that comes your way. This message became clear to Claire. On this Valentine's Day, "I hope you feel the love of all kinds. That's what got us through the worst couple of weeks. If you haven't heard it lately, you're capable, you're loved & you're never alone," Claire Kittle said.
ADVERTISEMENT
Article continues below this ad
Watch this story: Tom Brady's secret plan to win his ex wife