Business
Is Huobi safe? Why customers should be withdrawing funds
Key Takeaways
Crypto exchange Huobi is reportedly laying off 20% of its workforce and has requested employees take their salaries in stablecoins
Internal communication has reportedly been suspended in order to quell discontent
Customers are pulling their funds from the exchange, while volume is down 23%
Its native token has fallen 10%. Reports had previously singled out Huobi as the exchange which relies the most on its native token to denominate its reserves
While there is no concrete evidence of anything untoward happening with customer reserves, investors would be wise to withdraw the funds until the dust settles, given what else has transpired in the crypto industry over the last year
It's groundhog day in crypto. Yet another centralised crypto exchange is coming another fire, this time Huobi. 
What is happening Huobi?
Chinese crypto entrepreneur Justin Sun, who is the founder of cryptocurrency Tron and also sits on Huobi's board, announced that the exchange was to lay off about 20% of its workforce. 
Further reports claimed that in addition to a dramatic reduction of the workforce, employees were required to take their salaries in stablecoins, while internal communication channels were shut in order to quell discontent. 
While the story is still emerging, this is obviously…not good. Many ominous screenshots of employees trying to get into systems and communicate with one another were being shared all over Twitter. Reports emerged, understandably, that employees were enraged that should they refuse to accept their salaries in stablecoins, they would be dismissed. 
Justin Sun's HR is communicating with all Huobi employees to change the salary form from fiat currency to USDT/USDC; employees who cannot accept it may be dismissed. The move sparked protests from some employees. Exclusive https://t.co/QB4sjDyHc7

— Wu Blockchain (@WuBlockchain) January 4, 2023
Funds leave Huobi swiftly
The market waited no time in reacting. While there is no confirmed evidence of anything wrong with Huobi's reserves or solvency, it has been a rough year for crypto investors and the demise of FTX and Sam Bankman-Fried is all-too-raw for so many. 
As a result, funds were pulled swiftly from Huobi. The below chart from DefiLlama shows the USD outflows picking up. Since December 15th, when it received $87.9 million in USD inflows, there has been over $200 million of outflows. $75.1 million of these outflows has been I the last 24 hours.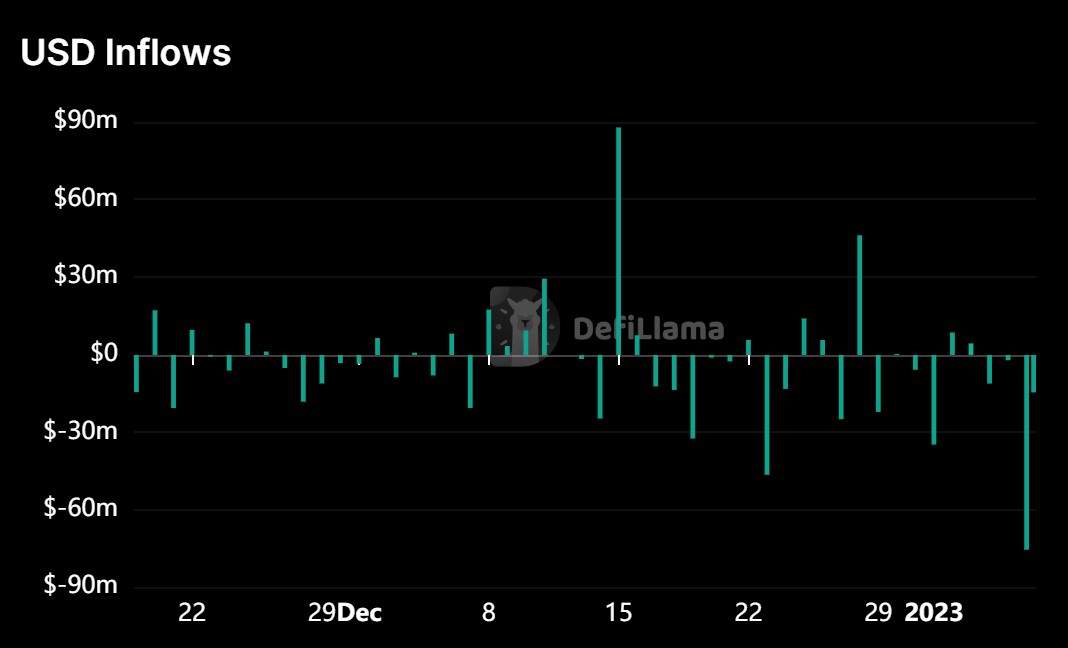 During the last 24 hours, volume on the exchange is also down 23% to $295 million from $510 million. 
Huobi's exchange token is also feeling the pain. Crypto investors will be particularly sensitive to these native tokens, given FTT's role in the FTX collapse and the fact that it has become increasingly obvious that so many simply serve minimal purpose. 
The Huobi token has halved since late October. It is down over 10% in the last 24 hours or so since the story of Huobi layoffs emerged. 
Is Huobi safe to hold assets on?
While drama about layoffs, employee discontent and falls in volume is concerning, this should not have any effect on the safety of Huobi. At least, in theory it shouldn't. But this is crypto, and if this year has taught us anything, it is that things are often not as they appear.
As I have written about repeatedly, transparency is abhorrent when it comes to these centralised crypto players. There is simply no way to know for sure what is going on behind the scenes at any of them.
The presence of an exchange token also muddies the water. Is this token being accepted as collateral for liabilities? Again, there is no evidence to suggest it is, but there is also no evidence to suggest it isn't.
Looking at data from blockchain analytics platform Nansen, Huobi's native token makes up 32% of its total allocation, while Justin Sun's TRX token comprises an additional 17%. A report from CryptoQuant also shows that of all the exchanges, Huobi relies the most on its own token to denominate its reserves.
Again, while there is no evidence to suggest anything untoward is happening here, the influence of a native token definitely muddies the water.
Customers making right call in withdrawing funds
With the doubt on the platform and the recent chaos in the crypto industry last year, it makes perfect sense that customers are pulling their funds. Similar to how such a large chunk of funds were pulled from exchanges in the wake of the FTX collapse, this is simply sound risk management.
If Huobi is perfectly safe and all returns to normal – and again, there is nothing concrete to suggest it won't – then customers can simply deposit their funds back onto the platform. But this is an unregulated, opaque entity that is impossible to make any sort of financial assessment on. That means it is a risk, and with all the madness of the last 24 hours, it would be a questionable move from a risk management perspective to not at least temporarily pull funds and wait until the dust settles.
---
Share this article
---
Categories
---
Tags