Entertainment
Julian Lage recalls the time Spinal Tap's Christopher Guest gifted him a 1955 Gibson Les Paul – which was signed by Les Paul himself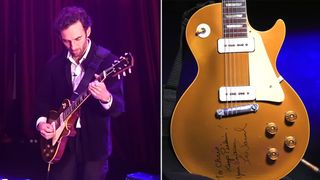 (Image credit: Premier Guitar/YouTube)

Contrary to the practices of some of his guitar-playing peers, Julian Lage is a true traditionalist: his whole guitar rig is supremely streamlined, and he's been known to favor only a small selection of very specific electric guitars.
The guitars Lage is most commonly associated with include a Fender Telecaster and, unsurprisingly, his Collings 470 JL signature guitar. As for acoustics, he is the holder of a Collings OM1 JL signature guitar.
There is another guitar, though, that Lage has been spotted with in the wild throughout the past few years, and one that has the most unlikely of backstories: a vintage 1955 Gibson Les Paul Goldtop, which carries the signature of Les Paul himself. Not only that, it was gifted to Lage by Spinal Tap's Christopher Guest.
Speaking to Premier Guitar, Lage recalled how Guest – a close friend of his with whom he shares a "similar sonic palette" – first bought the vintage piece in 1982, and used it as his main guitar while touring with Spinal Tap in 1984.
"Years ago I was at his house, and I played this guitar," Lage explained. "I sat down and played it and we both were like, 'This is the great jazz guitar sound,' playing through a little Princeton."
He went on, "I feel at a loss for words for how grateful and fortunate I am to play this, but I've always kept it somewhat of a secret, because it's my nature, I suppose."
As for what he loved especially about this Les Paul, Lage described it as a "convergence" of his Telecaster and Collings guitars – a philosophy he duly demonstrates with a comprehensive run-through of both the LP's mellow tones and his virtuosic playing.
"I feel very much like a steward of it," Lage said of his guitar. "I'm learning how to play it constantly. As a player, it's so luxurious. The overtones are clear, the power in the low-end is clear, it doesn't get better."
Though Lage doesn't get into the signature that can be found on the body, it can be deducted that Les Paul himself signed the guitar for Guest sometime after '82, with the inscription reading, "To Chris."
Lage's Les Paul can be spotted in a handful of the jazz virtuoso's videos, with the guitarist using it back in 2021 to cover Johnny Mandel's Emily. The Guest-gifted guitar has also seen action on Lage's Instagram account, cropping up in a number of improv clips and featuring in a video of him practicing I Should Care.
As far as guitar gift stories go, this has got to be up there with the wildest. to think Lage crafts his elegant, crystal clean jazz lines on a Les Paul once used by Christopher Guest – aka Nigel Tufnel – in a fictional heavy rock band is pretty hard to wrap your head around.
Still, it's testament to the Les Paul's ultimate versatility, as it clearly excelled in providing the beating heart of much of Spinal Tap's music, and more than caters to Lage's generational jazz tones.
Thank you for reading 5 articles this month*
Join now for unlimited access
US pricing $3.99 per month or $39.00 per year
UK pricing £2.99 per month or £29.00 per year 
Europe pricing €3.49 per month or €34.00 per year
*Read 5 free articles per month without a subscription
Join now for unlimited access
Prices from £2.99/$3.99/€3.49