Sports
"Lee Haney 2.0": Bodybuilding World Compares Arnold Classic 2023 Winner Samson Dauda With 8x Mr. Olympia
2022 saw the rise of many promising bodybuilding prospects. However, UK resident Samson Dauda stood out among the sea of potential future champions. After placing 6th in his first Mr. Olympia appearance, Dauda became the talk of the town for bodybuilding fans. Now mere months later, the Nigerian native has upset Nick Walker to win the second most prestigious bodybuilding competition, the Arnold Classic. Dauda trains under former Mr. Universe and renowned bodybuilding coach Milos Sarcev. Earlier, Dauda's coach shared an interesting comparison photo on Instagram.
Sarcev posted a side-by-side comparison image of his protege and bodybuilding legend Lee Haney. Haney is among the most dominant champions in bodybuilding history and won eight Mr. Olympia titles consecutively.
Different eras but similar structure
ADVERTISEMENT
Article continues below this ad
Earlier, Milos Sarcev uploaded the comparison picture on his Instagram with the caption, "#BODYBUILDING." The collage contained two similar photos of Haney and Dauda. Both bodybuilders stood in a somewhat relaxed pose, flaring their lats to accentuate the v-tapered look. While the bodybuilders belong to different eras, they have striking similarities in shape and structure.
The 2023 Arnold Classic champion looks bigger than Haney, as he has more muscle mass and weighs over 290 lbs. However, the eight-time Mr. Olympia has a tighter mid-section and a smaller waist. Even during the offseason, Haney weighed around 265 lbs. While Samson shares many similarities with the bodybuilding legend from the front, Sarcev didn't upload a side-by-side comparison of their backs.
After Sarcev uploaded the collage, bodybuilding fans voiced their opinion.
Bodybuilding fans compared Smason Dauda with Lee Haney
Fans flooded the comments section of the post and voiced their opinion. Some fans mentioned Lee Haney's back:
"This picture truly shows how ahead of his time Haney really was."
"With Haney's back it's game over."
"Rear comparison needed Milos, Haney's back is a game changer, can he match it..?"
"Absolutely…all he needs is Lee's back and UNDENIABLE!"
DIVE DEEPER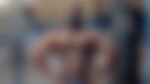 Others saw the similarities Dauda shares with the eight-time Mr. Olympia:
"Very very similar physiques even the gap in the middle of the abs looks quite similar."
"Just 2 beautiful structures…flawless. Samson is basically Lee Haney 2.0"
ADVERTISEMENT
Article continues below this ad
"The last classic type physique to win Mr. O let's hope Samson can do the same."
"Always said he reminds me of Lee Haney. Just a bigger version."
"Lee with better legs."
ADVERTISEMENT
Article continues below this ad
Watch this story | From Ronnie Coleman's dominance to Arnold Schwarzenegger's 1980 comeback- Here are the top bodybuilding moments 
What do you think about the comparison? Do you think Samson Dauda shares similarities with the former Mr. Olympia, or do you disagree? Write your thoughts in the comments.