Entertainment
'Mahoutsukai no Yome Season 2' Unveils Additional Cast, First Promo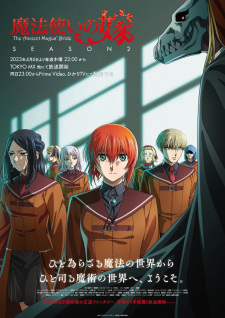 The official website of the Mahoutsukai no Yome Season 2 (The Ancient Magus' Bride Season 2) television anime unveiled additional cast members, the first promo, and a key visual (pictured) on Thursday. The anime is set to premiere on April 6 at 10:00 p.m. on Tokyo MX, followed by BS11 and AT-X. Amazon's Prime Video platform and Hikari TV will also stream the anime.
Cast
Lucy Webster: Minami Tsuda (Yuru Yuri)
Philomela Sargant: Maki Kawase (Kuma Kuma Kuma Bear)
Rian Scrimgeour: Seiichirou Yamashita (Kage no Jitsuryokusha ni Naritakute!)
Zoe lvey: Daiki Kobayashi (Jibaku Shounen Hanako-kun)
Veronica Rickenbacker: Reina Ueda (Chainsaw Man)
Isaac Fowler: Koutarou Nishiyama (Kiznaiver)
Kazuaki Terasawa (Mahoutsukai no Yome: Nishi no Shounen to Seiran no Kishi) is directing the television anime at Studio Kafka. Aya Takaha (Mahoutsukai no Yome), Youko Yonaiyama (Uma Musume: Pretty Derby), Chiaki Nishinaka (Vivy: Fluorite Eye's Song production manager) is handling the script. Hirotaka Katou (Hoozuki no Reitetsu) is the character designer, and Junichi Matsumoto (Mahoutsukai no Yome: Hoshi Matsu Hito) is composing the music.
The anime series adapts Kore Yamazaki's fantasy supernatural manga, which began serializing in Monthly Comic Blade in November 2013 before switching it to Monthly Comic Garden due to the former ceasing serialization. Mag Garden simultaneously serializes the manga on its MAGCOMI website and published the 18th volume in September 2022, with the 19th volume set to be released on March 10. Mahoutsukai no Yome has a cumulative 10 million copies of its volumes in circulation.
Seven Seas Entertainment licensed the manga in English in October 2014 and published the 16th volume in October 2022. The 17th volume is scheduled for a March 7 release. The manga is also published in multiple foreign languages, including Polish, German, Italian, Spanish, Russian, Finnish, and Brazilian Portuguese.
PV
Source: PR Times