Sports
NASCAR Star Ty Gibbs Reacts to the Tragic Demise of Beloved Coach
Losing someone who has had a significant influence on one's life can be deeply distressing. Ty Gibbs has had to face something similar. He recently shared a post sharing the news of the demise of his beloved baseball coach. This was after the Charlotte Christian School announced that their long-time and highly successful baseball coach, Greg Simmons, has passed away after a courageous battle with lung cancer.
Following the news, NASCAR driver, Ty Gibbs, posted a story on his Instagram, where he shared a memorial picture of Simmons. He did not say anything as he shared the post. The image mentioned some of Simmon's career achievements, highlighting how influential he was.
Who was Coach Greg Simmons?
Coach Greg Simmons was an integral part of the Charlotte Christian School community for 30 years. During this time he guided the baseball team to an extraordinary number of victories, state titles, and conference titles. Under his leadership, the team amassed 733 wins, 16 state championships, and an impressive 22 conference titles. The impact of Coach Simmons on his players and the school was truly remarkable. Many of his former players went on to play baseball at the college level. Furthermore, ten of them were even drafted by Major League Baseball teams.
Not only was Coach Simmons the most successful coach in the school's history, but he also holds the record for the most wins by any coach in NCISAA baseball throughout its history. He would be deeply missed by the school community and always be remembered for his outstanding contributions to the sport, the school, and his players.
What did Coach Simmons do before joining the school?
Before joining the Charlotte Christian School community as a coach, Greg Simmons had a notable career in baseball.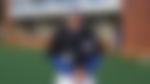 He first attended Liberty University where he played baseball under the guidance of New York Yankees great Bobby Richardson from 1986-1988. Later in 1989, he also served as a graduate assistant coach. In 1989, Coach Simmons moved to Charlotte and began teaching and coaching at Charlotte Christian. Three years later, in 1992, he took over the role of head coach for the varsity baseball program.
WATCH THIS STORY: Hendrick Motorsports Legend Jimmie Johnson Reignites Rivalry With NASCAR Legend On "New Favourite Show"
The loss of someone evokes feelings of sadness, grief, and a sense of emptiness. However, also brings gratitude for the memories, lessons, and inspiration they have left behind. With heavy hearts, we bid farewell to a legend who has left an indelible mark on people's lives and memories. Rest in peace coach.