Technology
New Samsung Galaxy S23 Ultra leak tells us more about the camera upgrades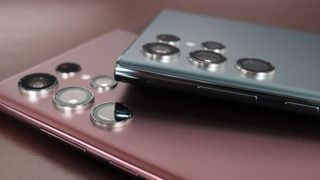 The rear cameras on the Galaxy S22 Ultra
(Image credit: Future)

You might have thought just about every aspect of the upcoming Samsung Galaxy S23 phones had leaked at this point, but not so – the rumor mill keeps coming up with more information about these flagship devices ahead of their February 1 launch.
Today we've got another tidbit of information from well-known provider of leaks Ice Universe (opens in new tab) (via GSMArena (opens in new tab)), who has taken to Chinese social media platform Weibo to give us some details of the portrait video mode on the Galaxy S23 Ultra.
The source says that the mode will be capable of shooting in a 4K resolution at 30 frames per second, with the phone offering relatively good thermal control so that the processing power required to capture clips in this mode doesn't overheat the phone.
Resolution bump
We weren't hugely impressed with the portrait video mode on the Galaxy S22 Ultra, especially compared with cinematic mode on the iPhone. In both cases, the subject of a video is kept in focus while the background gets blurred.
The current Samsung Galaxy S22 Ultra can capture normal video at an 8K resolution at 24 frames per second, or at a 4K resolution at 60 frames per second. In portrait mode, that goes down to a 1080p resolution at 30 frames per second.
What's not clear is whether or not the other two Galaxy S23 models are going to get portrait mode this time around. All will be revealed when Samsung's next Unpacked launch event rolls around, and it's only a couple of weeks away.
---
Analysis: a tale of two sensors
Based on the rumors we've heard so far, we're expecting the Samsung Galaxy S23 Ultra to come fitted with the new 200MP ISOCELL HP2 sensor that Samsung has revealed. The standard and Plus models, meanwhile, are rumored to be sticking to a 50MP main sensor.
That should mean that the Ultra model is the one to look at for the most substantial camera upgrades over last year's models. So far we've heard that the night vision capabilities will be better, and we've seen sample shots for comparison purposes.
There has also been talk that Samsung is adding more modes on the software side, to go with improvements in the hardware. From a photo and video standpoint, you should be able to do more than ever with the upcoming Galaxy S23 handsets.
In fact there's been so much buzz around this that we think the Galaxy S23 Ultra could be one of the best photo-taking phones of the year – and it might even have more to offer than whatever Apple is plotting with the cameras on the iPhone 15.