Entertainment
Orange unveils the Rockerverb 50 MkIII Combo Neo – and it's almost 20% lighter than the original Rockerverb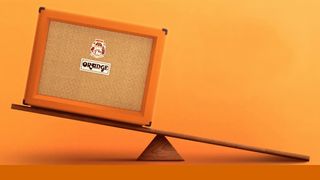 (Image credit: Orange)

Orange has introduced an updated, lighter version of its celebrated Rockerverb 50 MkIII combo amp, which slashes almost 20 percent off the original's total weight.
Dubbed the Rockerverb 50 MkIII Combo Neo, the slimmed down amp has managed to lose close to eight kilograms thanks to a more efficient design and new, lightweight speakers.
Specifically, the Baltic birch plywood amp cab, which used to be 18mm, has been thinned out to 15mm – a small tweak that alone manages to cut off around two kilograms from the overall weight.
As for the speakers, the original's V30 units have been swapped out for two UK-built 12" Celestion Creambacks, which feature neodymium. In comparison to standard ferrite, neodymium is far more magnetic, meaning less metal is required to perform the same job.
Owing to this internal change, Orange says the Celestion Creambacks can – at only 1.9 kilograms each – perform like speakers three times their weight. All in all, the Neo weighs in at 31 kilograms. Not ridiculously light by any means, but an improvement on the original's weight, for sure.
Despite these changes, the Neo iteration of the Rockerverb 50 MkIII combo arrives with the exact same control layout as found on its predecessor, meaning it comes adorned with all the same assortment of Orange-specific control symbols.
To translate the facade, there are knobs for Volume, Bass and Treble for the Clean channel, while the Dirty channel offers Gain, Bass, Mid and Treble parameters of its own. These are complemented by a Clean/Dirty selector switch, a Full/Standby/Half Power toggle – which switches between 50W and 25W output – and dedicated Reverb and Attenuator controls.
Under the hood, the amp comes loaded with four ECC83 and 12AX7, and two ECC81 and 12AT7, preamp tubes, as well as a pair of EL34 power tubes.
The Rockerverb 50 MkIII Combo Neo is available now for $2,699, in Orange or White finishes.
To find out more, head over to Orange (opens in new tab).
Thank you for reading 5 articles this month*
Join now for unlimited access
US pricing $3.99 per month or $39.00 per year
UK pricing £2.99 per month or £29.00 per year 
Europe pricing €3.49 per month or €34.00 per year
*Read 5 free articles per month without a subscription
Join now for unlimited access
Prices from £2.99/$3.99/€3.49