Technology
Qualcomm Snapdragon 8 Gen 3 could trade blows with Apple Silicon thanks to massive single and multi-core gains; Snapdragon 8 Gen 4 rumoured to launch with Nuvia cores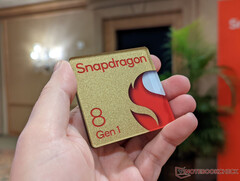 Qualcomm's next flagship chipset, the Snapdragon 8 Gen 3, will supposedly score 1,800 and 6,500 points in Geekbench's single and multi-core tests. It will be manufactured on TSMC's N4P process, and not N3E as proclaimed by some rumours.
So far, the TSMC-made Qualcomm Snapdragon 8 Gen 2 has proven itself to be quite capable, besting even Apple's best silicon in real-world gaming tests. Its immediate successor, the putative Snapdragon 8 Gen 2 Plus, will bring forth little improvements other than marginally higher clock speeds. 2024's flagship, the Snapdragon 8 Gen 3 (tentative), on the other hand, has the potential to crush the A17 Bionic, at least in the multi-core department.
A rumour from Weibo (via Meeco.kr) says the Snapdragon 8 Gen 3's Geekbench scores can go as high as 1,800 and 6,500 in the single and multi-core benchmark. The former is spitting distance away from the A16 Bionic's best-recorded score of 1,847, and the latter sits somewhere between that (5,382) and the Apple M1 (7,143). Compared to the current-gen Snapdragon 8 Gen 2 (~1,500/,5,240 points in Geekbench), it brings forth a nearly 20% and 24% improvement in single and multi-core performance, respectively.
There is no word about the Snapdragon 8 Gen 3's specs, but it'll likely feature one Cortex-X3 core combined with three/four Cortex-A720 (tentative) and four/three Cortex-A510 cores. It will supposedly be manufactured on TSMC's N4P process, not N3E, as suggested by previous rumours. However, there is one report out there that states some units could be manufactured on Samsung's 3GAA node. That seems unlikely, as it could potentially result in Chipgate 2.0.
Its successor, the 2025-bound Snapdragon 8 Gen 4 (tentative), is said to feature a 6+2 configuration with Nuvia's Oryon-based Phoenix L and Phoenix M cores. It is also slated to be the first Qualcomm processor to be fabricated on TSMC's N3E process. One should get a rough idea about how the Nuvia cores hold up in the real world once its 12-core laptop chip debuts in 2024.
Related Articles
Anil Ganti – Senior Tech Writer – 1222 articles published on Notebookcheck since 2019
I've been an avid PC gamer since the age of 8. My passion for gaming eventually pushed me towards general tech, and I got my first writing gig at the age of 19. I have a degree in mechanical engineering and have worked in the manufacturing industry and a few other publications like Wccftech before joining Notebookcheck in November 2019. I cover a variety of topics including smartphones, gaming, and computer hardware.
Anil Ganti, 2023-01- 9 (Update: 2023-01- 9)