Technology
Samsung Galaxy S23 launch live: full specs, price, cameras and more to be revealed
Update: the new phones have now been announced, and we've tried them! Read our hands-on Samsung Galaxy S23 review (opens in new tab) for our early impressions of the most affordable option, our hands-on Samsung Galaxy S23 Plus review (opens in new tab) for our first look at the bigger version, or our hands-on Samsung Galaxy S23 Ultra review (opens in new tab) for our opinion on the biggest, fanciest and most expensive model.
Trust our Galaxy coverage
Trust our Galaxy coverage
Phil Berne is a preeminent voice in consumer electronics reviews, having reviewed his first device (the Sony D-EJ01 Discman) more than 20 years ago for eTown.com. He has been writing about phones and mobile technology since before the iPhone, for a variety of sites including PCMag, infoSync, PhoneScoop, and Slashgear. He previously worked on the Samsung PR team leading phone reviews.
Refresh
Professional-grade cameras on every model
Samsung says that every camera gets an upgrade, not just the big sensor on the Galaxy S23 Ultra (which hasn't been mentioned, yet). Every model will be able to record 4K Super HDR video at 60fps on rear and front camera. 
Still photographs will see a similar HDR benefit as well, and Samsung is not explaining how its pixel-binning technology works on the various camera sensors. Basically, the sensors will combine four pixels into one, reducing the resolution of the image but also adding more information to help process the images.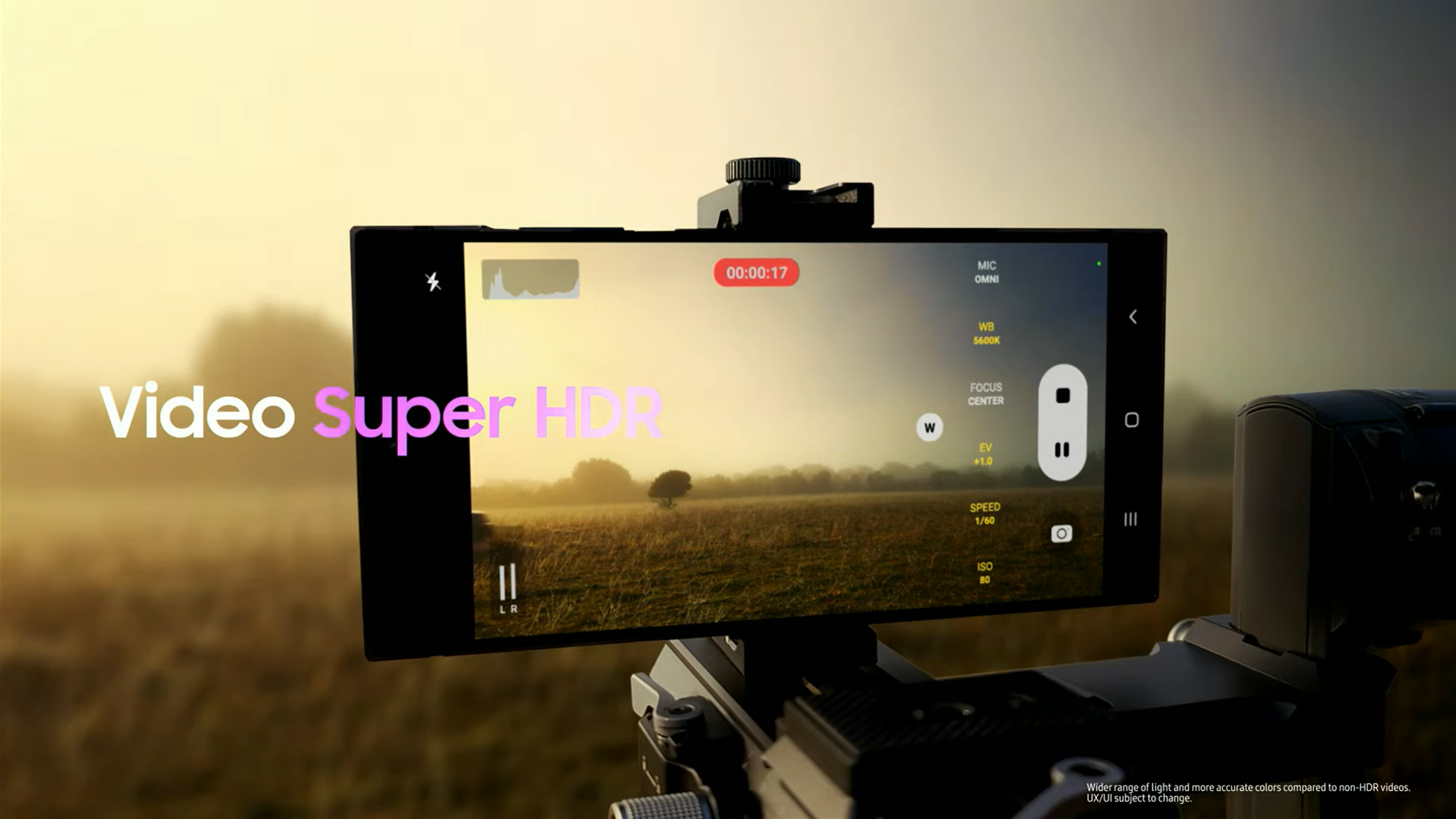 Ultra is up first
Up first is my old friend Drew Blackard, VP of Product Management at Samsung. The new colors have all been shown off in the context of their namesakes, so we see green in a Botanic environment, and beige in a field of Cotton Flowers. 
Blackard is directly comparing the new design of the base model Galaxy S23 and Galaxy S23 Plus to the Ultra, and Samsung started by shaving off, literally, the camera contour from the old phone in a bit of CGI wizardry. 
Now the focus is on cameras, and Samsung has turned over its new Ultra device to Ridley Scott to make some movies for promotion.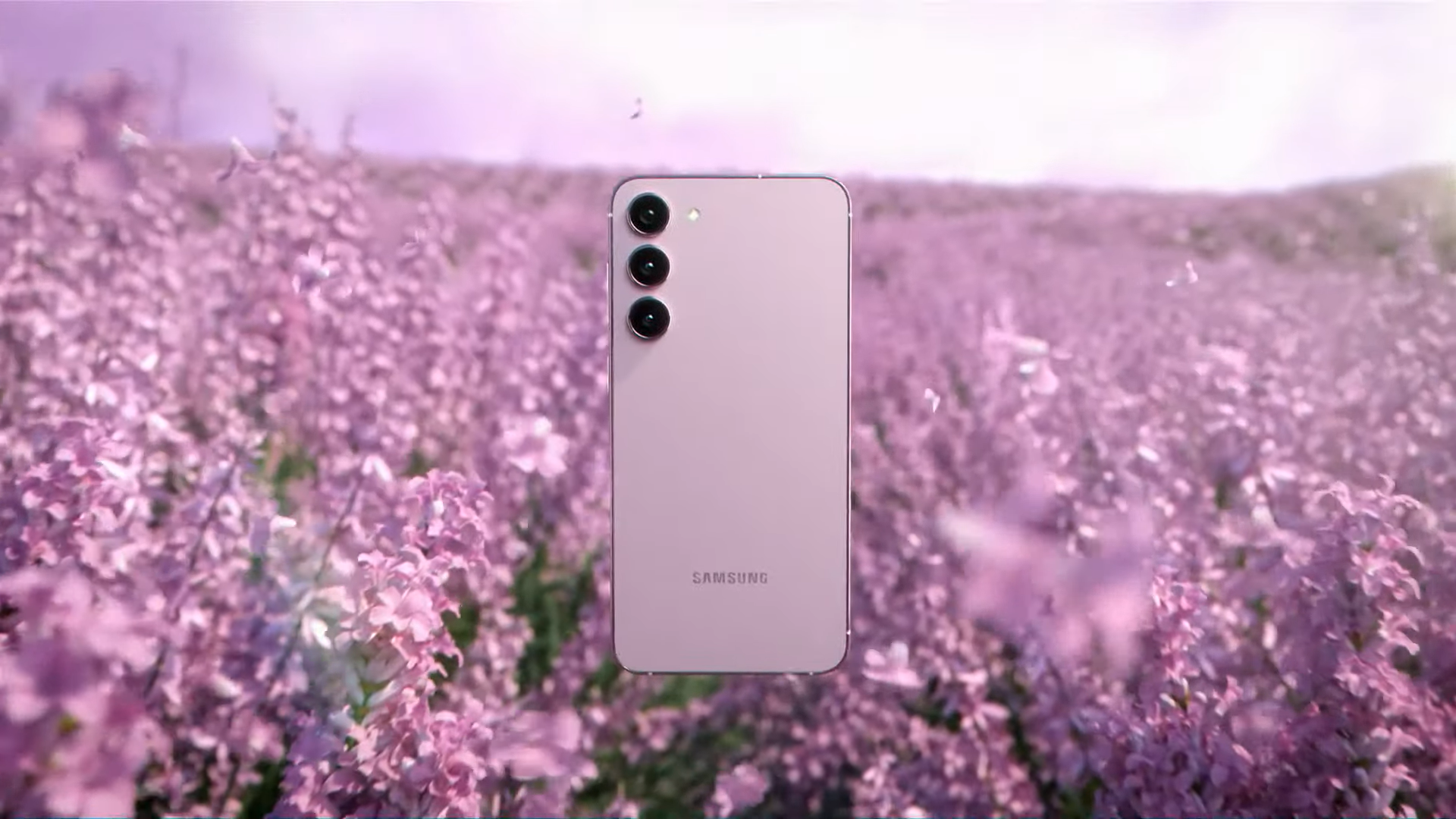 Samsung Galaxy Unpacked 2023 has begun
You can check out the event live from the Samsung YouTube (opens in new tab) page. We haven't seen any new device yet, but Samsung has already teased a new Ultra laptop, and the new phones are on the way!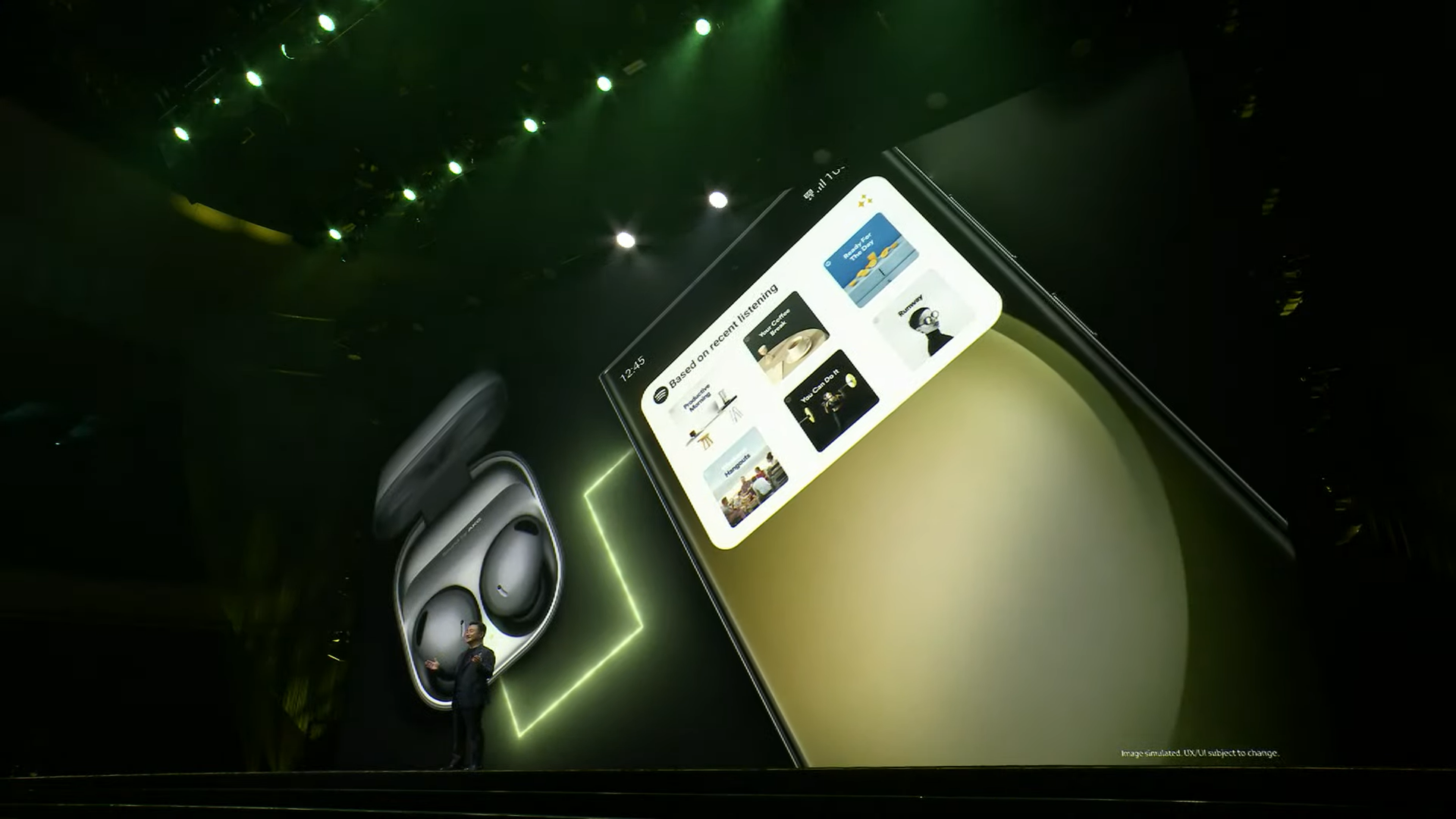 Samsung Galaxy S23: the bundles and promos
With about 20 minutes to go until Unpacked kicks off, we're getting some hints about possible promos and bundles. 
In the UK, for example, it appears that Very (opens in new tab) will be offering a tempting bundle that includes the Galaxy S23 Ultra and Galaxy Watch 5. Naturally, it isn't cheap though…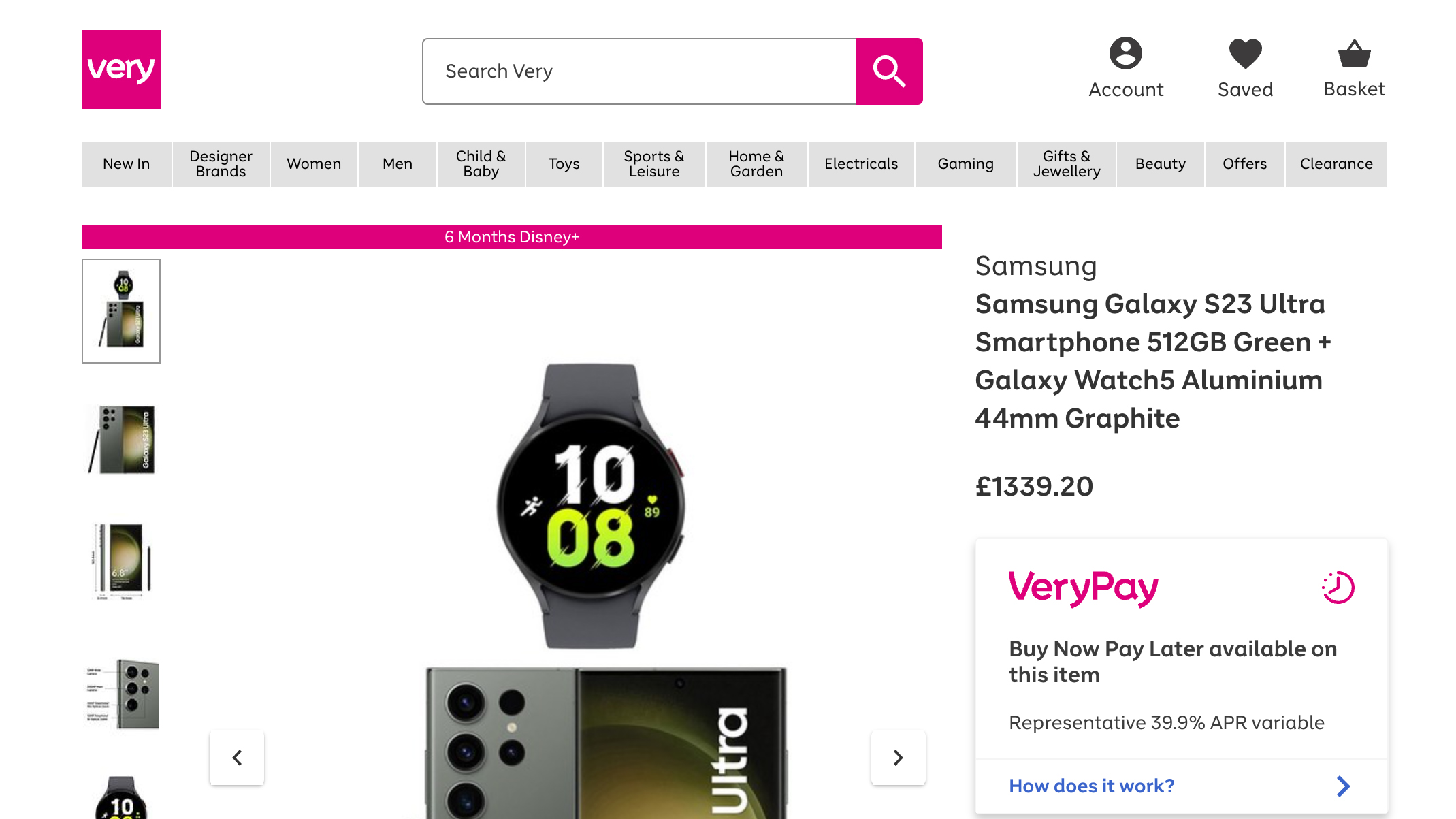 If you're looking for a rough hint about pricing for all three models, we've listed the latest rumors below. And we'll be rounding up the best Samsung Galaxy S23 deals as they land. 
Likely prices
Galaxy S23: $799 / £769 / AU$1,249
Galaxy S23 Plus: $999 / £949 / $1,549
Galaxy S23 Ultra: $1,249 / £1,199 / AU$1,950
Samsung Galaxy S23 series: the big camera improvements
A lot of Samsung's pre-launch hype (like its 'Epic nights are coming' promo) has been around the phone's potential for Moon photography. 
But as impressive (and sometimes controversial) as that AI-powered mode is, the bigger quality-of-life upgrade for most people will likely be the S23 Ultra's improved zoom at more modest focal lengths like 15x zoom.
It seems that the 30x of S23 Ultra is better than S22 Ultra,The clarity is comparable to that of S22 Ultra's 20x. pic.twitter.com/KlqJVChfsiJanuary 23, 2023
See more
According to a Tweet from the leaker Ice Universe (above), the quality of the S23 Ultra's 30x zoom will be on a similar level to the S22 Ultra's 20x zoom.
That's a big deal, as is the prospect of an improved zoom in the 10x-15x zoom range. In theory, the latter could get close to the quality offered by the folded optics of the S23 Ultra's 10x zoom lens. 
This is the space where Samsung is really opening up a lead on the iPhone. And the prospect of having a slim smartphone with that kind of zoom quality is still an amazing one to me – it wasn't long ago that Samsung could only get to 10x zoom on a phone by slapping a compact camera on the back of the Galaxy Camera (below). Remember that?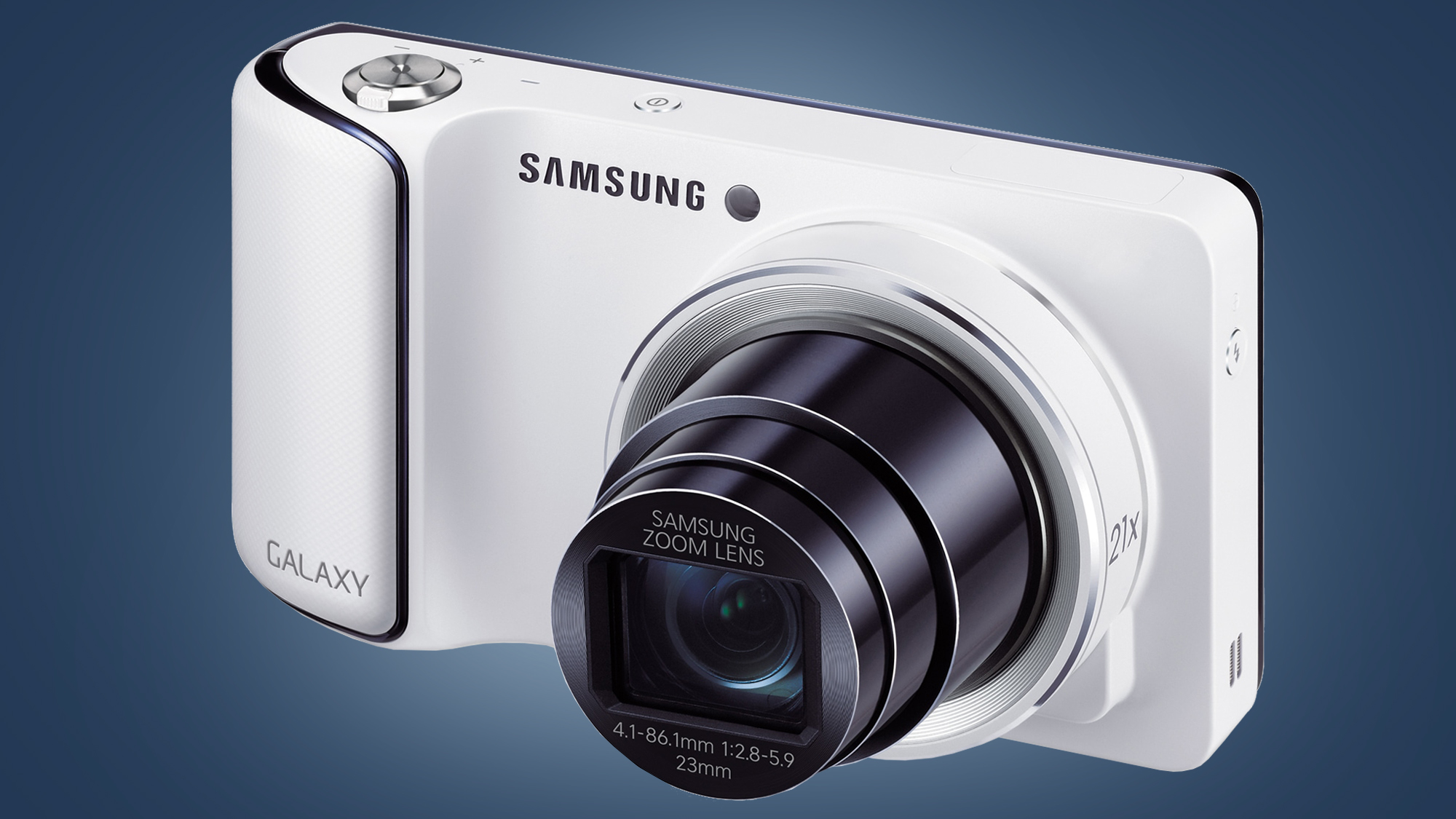 Samsung Galaxy S23 series: what cameras will they have?
As TechRadar's former Cameras editor, I'm most interested in the photography upgrades we're going to hear about later – particularly on the Samsung Galaxy S23 Ultra.
These are the likely camera setups we'll see on each phone according to the leaks.
Samsung Unpacked 2023 is kicking off in an hour – here's a final reminder of that livestream so you can watch along with us.
When are Samsung's new phones actually launching? 
In terms of when you can physically get your hands on Samsung's shiny new devices, the latest intelligence suggests that the Galaxy S23, S23 Plus and S23 Ultra will all begin shipping online and in stores from February 17. 
As we've mentioned, Galaxy S23 preorders are still live (but only for a few more minutes!), and it's worth flagging again that you'll get a nice little $50 store credit should you commit to purchasing one of the brand's new phones. Go! Go! Go! 
Samsung Galaxy S23 series: specs
It's not just the chipset being used by Samsung's hardware that's been leaked, their other specs might have been revealed early too.
Firstly, in terms of digital storage space, we might see every Samsung Galaxy S23 model will abandon their smallest 128GB variant; that would mean you'd only be able to buy a model with 256GB at a minimum. If these new smallest models adopt prices that are similar to their respective 128GB Galaxy S22 counterparts then we won't be complaining, but if the change means Samsung's base models end up being more expensive than before we'll be disappointed.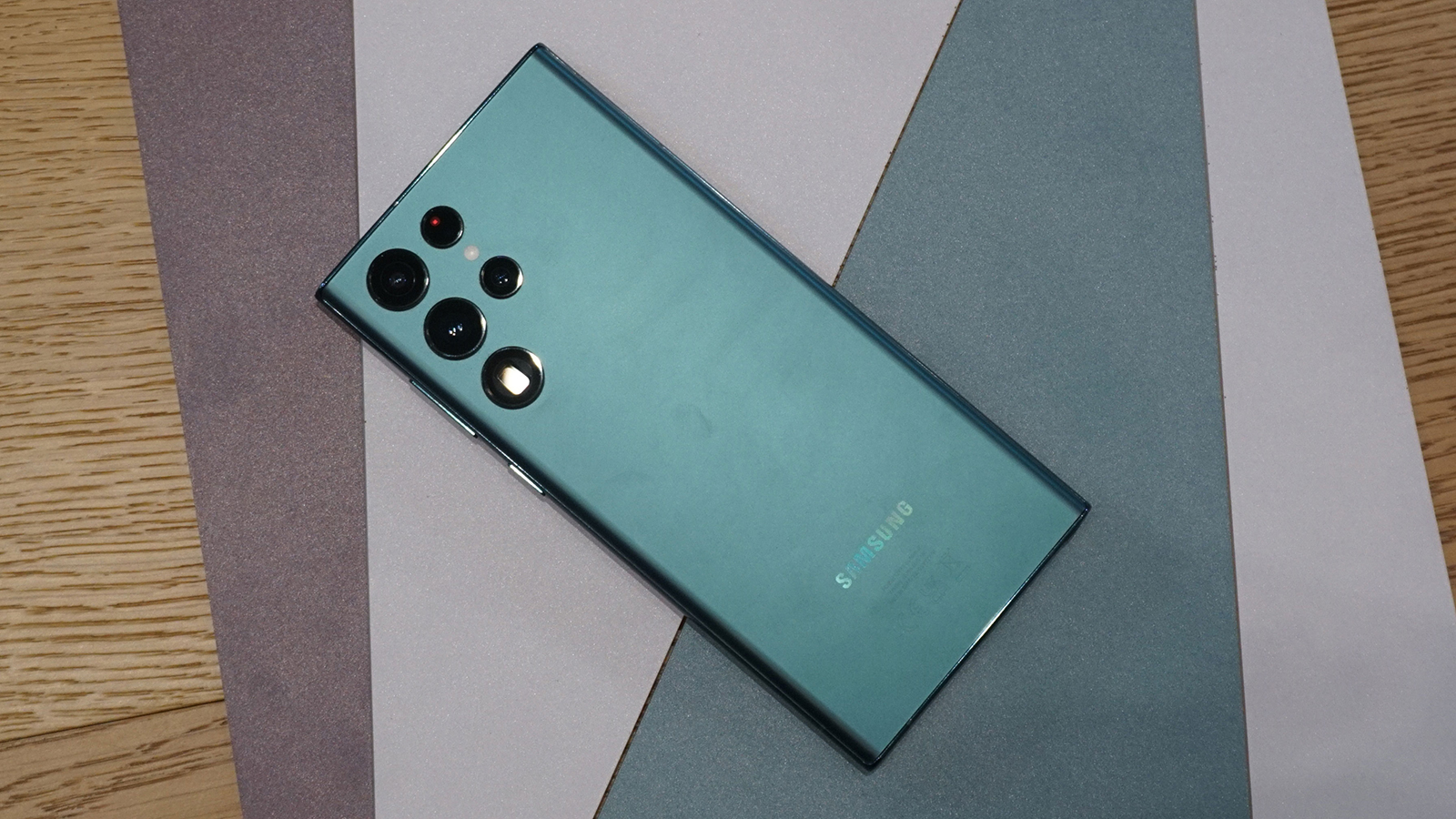 That said, those after a budget option may not be out of luck; another rumor has suggested the regular Galaxy S23 will retain its 128GB version, so we'll have to see which leak is true.
Another note on storage is that some versions of the phones might be exclusive to the Samsung store. This includes some colors but also the rumored 1TB storage / 12GB RAM model of the Samsung Galaxy S23.
Speaking of RAM; the Samsung Galaxy S23 and Galaxy S23 Plus are expected to only boast 8GB of it, while the Samsung Galaxy S23 Ultra is rumored to offer only 8GB of RAM in its 256GB storage model, but its 512GB and 1TB storage models will deliver 12GB of RAM.
Samsung Galaxy S23 series: performance
If the leaks are to be believed, then Samsung's Galaxy S23 lineup could be its best-performing smartphones yet.
A big part of that will be down to the Snapdragon 8 Gen 2, a chipset that Samsung hasn't admitted it will be using but leaks and comments from Qualcomm itself hint that this is indeed what the S23 mobiles will rely on.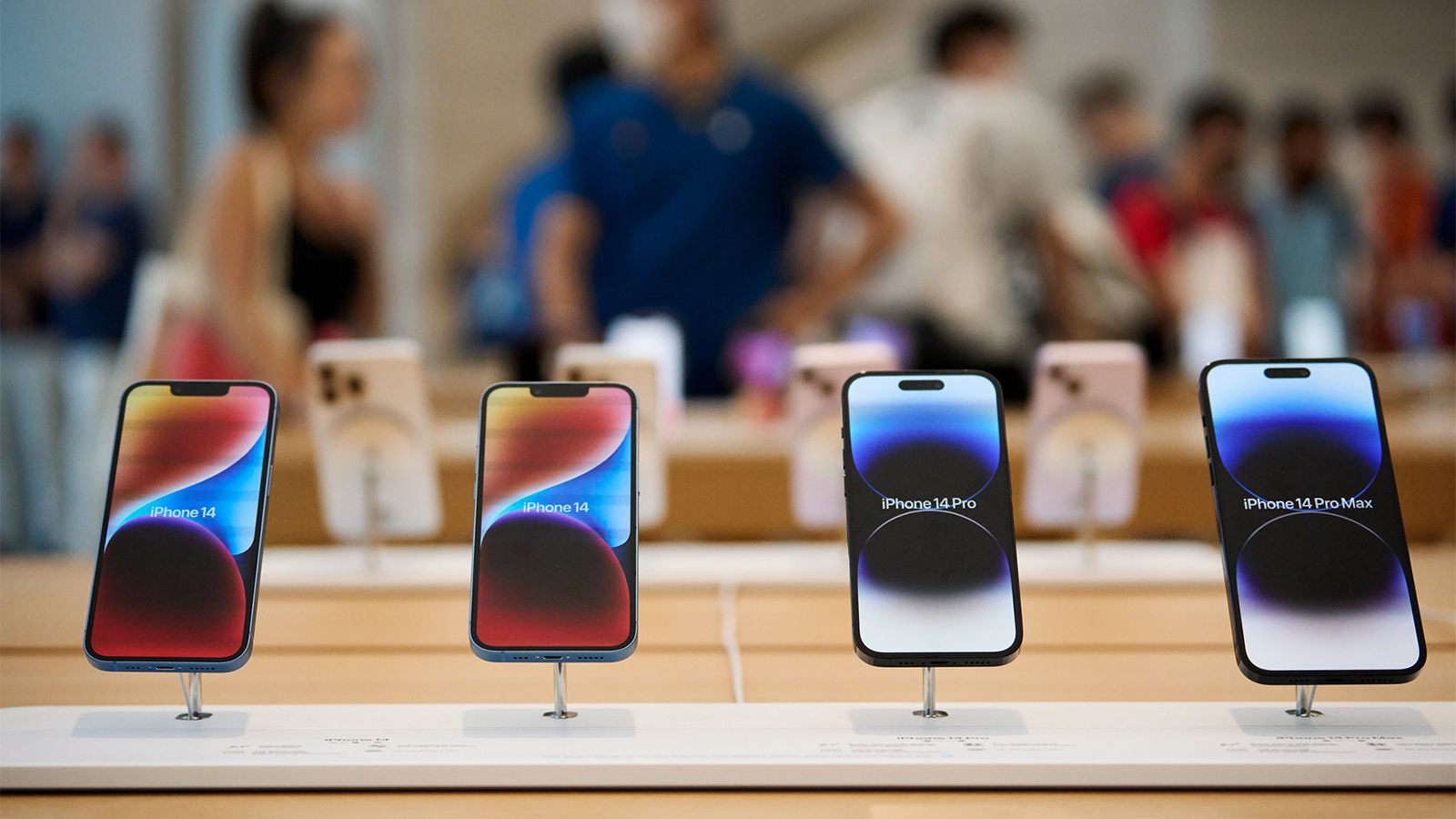 Leaked Galaxy S23 benchmark scores suggest that the Galaxy S23 (and its Plus and Ultra models) will be the fastest Android phone on the market, with scores that put the device close to the Apple A16 chip used in the iPhone 14 Pro. 
These claims are backed up by another source that says all three S23 models will see an increase in processor speed by 36%, an increase in graphics performance by 48%, and an increase in neural processing of 60% compared to Samsung's S22 phones.
The Snapdragon 8 Gen 2 also claims to give mobile games a bump in performance, with its Adreno GPU promising 25% faster performance and better visuals thanks to its ray-tracing capabilities. We'll have to wait and see what Samsung announces, but if its new hardware includes the Snapdragon 8 Gen 2 then we could be in for a treat.
Samsung Unpacked 2023: how can you watch?
There's now just ten minutes to go until the Samsung Galaxy S23 launch. If you're still wondering how to tune in, you have a few potential options.
Samsung will be streaming Galaxy Unpacked 2023 on the Samsung website (opens in new tab), and the event will also be livestreamed across the company's usual channels.
That gives us a good idea of where else you'll be able to watch it. Samsung's YouTube page (opens in new tab)will definitely host a livestream, for one, and we've embedded that below.
The Samsung News site (opens in new tab)is also likely to host the stream, and it's very possible the video will be viewable elsewhere, too.
Samsung Galaxy S23 series price: how much will they cost?
Given the amount of leaks we've digested over the past few weeks, we're fairly confident about what we expect to see unveiled at this year's Samsung Galaxy Unpacked event – but just how much the company's new Galaxy S23 phones will cost is still up for debate. 
Based on recent rumors, we suspect Galaxy S23 prices to stay the same as their S22 counterparts in the US (i.e. $799.99, $999.99 and $1,199.99), but the news is less promising for European customers, who could be facing price increases of up to €300 (which would mark the biggest generational increase in Galaxy history!).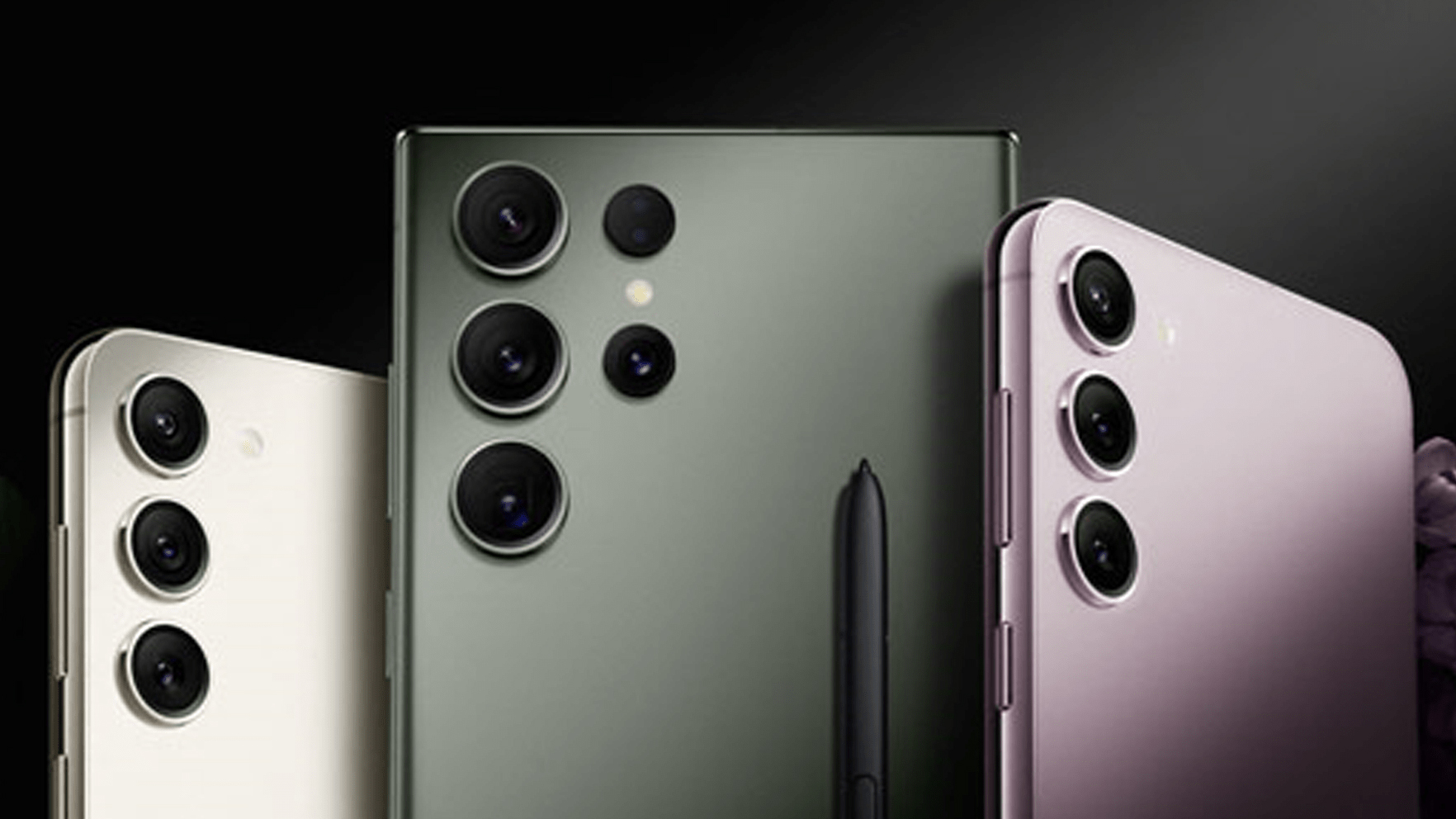 One leaker has even suggested that Galaxy S23 prices in Turkey will be equivalent to around $2,660 / £2,145 / AU$3,740 – which would probably be enough to get you two of the company's new phones in the US and UK. Here's hoping Samsung doesn't vary its prices quite so wildly across the globe… 
Samsung Galaxy S23 series: the all-important ringtone
Looking for a bit of light relief in the last 15 minutes before Samsung Unpacked kicks off? Check out the series' new retro ringtone below.
The trademark tune has been around since 2011's Galaxy S II and this year's take on it comes courtesy of Yaeji, a Korean-American DJ and producer who straddles the worlds of pop, house music and hip hop. I like its Nintendo-style charm, but as expected it's divided opinion in the YouTube comments.
Expect to hear this song on a train near you very soon – or perhaps on the music festival circuit, as Yaeji's booked to play the likes of Coachella later in 2023.
Samsung Galaxy S23 pre-orders: hurry!
If Samsung Galaxy S23 prices do rise, then you'll want to save every cent you can on the new phones. That's particularly true if you have your eye on the Galaxy S23 Ultra, because that phone is unlikely to be cheap wherever you are.
The good news is that you can save money on the devices if you act quickly (within the next 20 minutes or so). Galaxy S23 preorders are still live, and the official Samsung site is running a unique pre-registration promo which could save you $50 on one of the phones.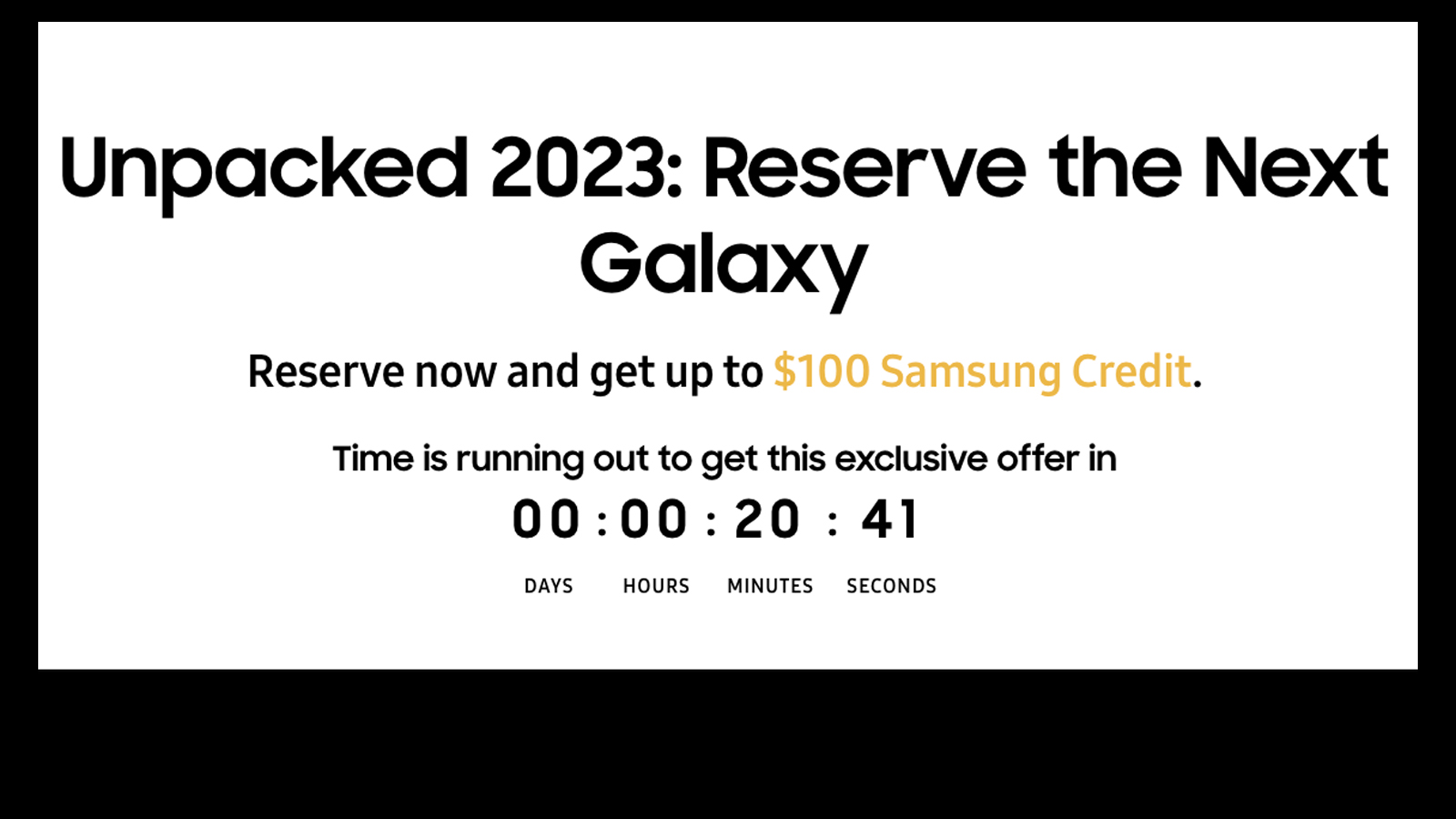 Simply head on over to this page and fill out the 'register your interest' form (opens in new tab) to reserve a device. Not only will you secure a firm place in line in doing this, but you'll also receive $50 of store credit should you commit to a preorder once they go live later today.
But act quickly: the pre-orders will close an hour before the event starts, so you have around 20 minutes to register.
Samsung Galaxy S23 series: price
Regardless of how many leaks there have been around the Galaxy S23 – and seriously, this thing has leaked like a sieve – we don't know everything about it yet.
For one, we don't yet know for sure how much it will cost.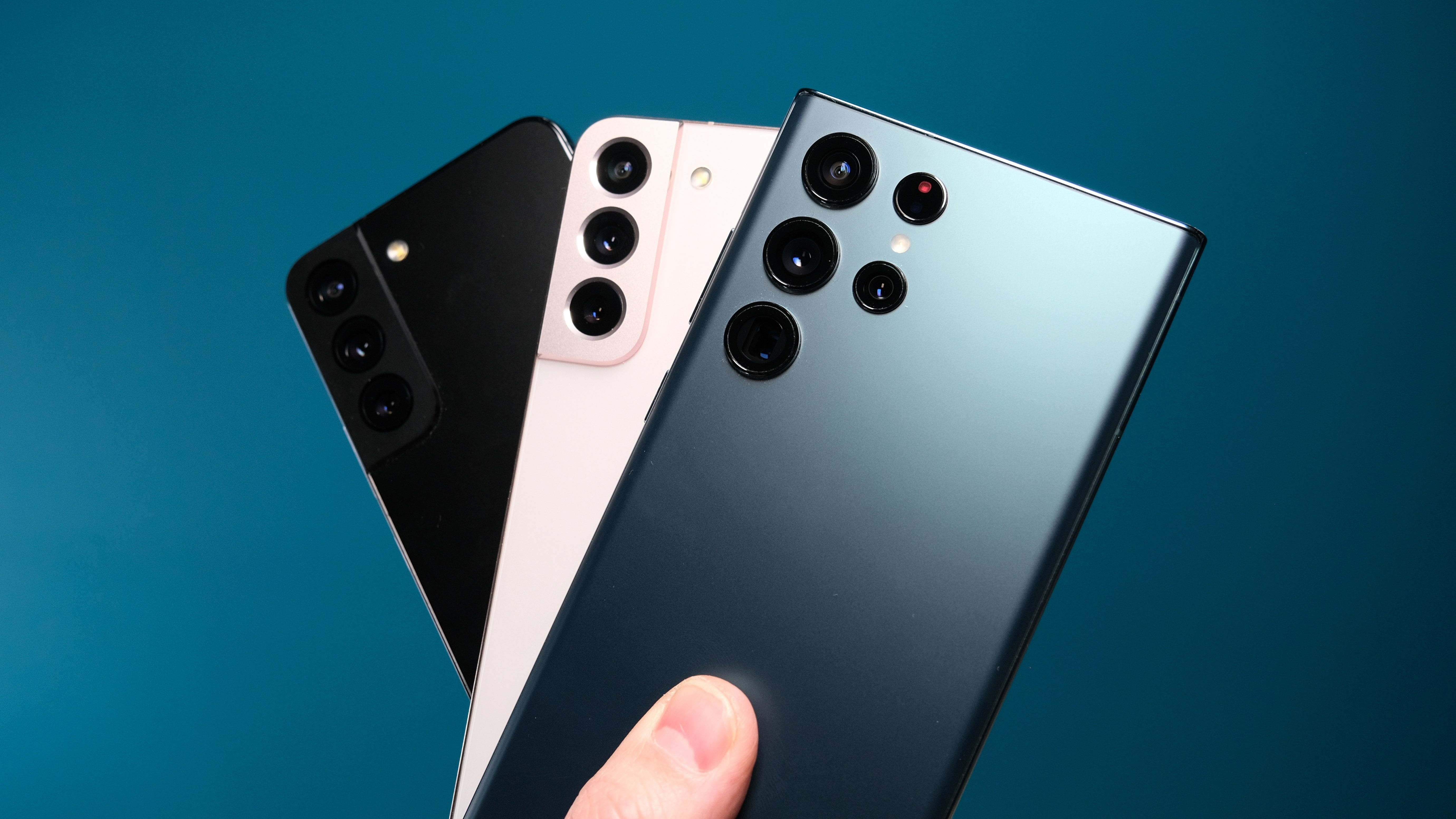 The smart money (pun intended) says that in the US at least, all three models will keep the prices from the S22. If true, that would mean prices of $799.99, $999.99 and $1,199.99 respectively, for the base variants.
However, earlier this week we heard rumors that Galaxy S23 prices could go up in some countries – and considerably so. Fingers crossed that isn't the case.
Samsung Galaxy S23 series: Design
As Samsung fans will already be well aware, we're expecting three members of the Galaxy S23 series to arrive in just over an hour: the Galaxy S23, the Galaxy S23 Plus and the Galaxy S23 Ultra.
The leaked image of dummy units you see below (credit: Sonny Dickson) echoes other leaks and rumors around the design direction Samsung is taking with this generation. Each device looks strikingly similar in form to the Galaxy S22 Ultra.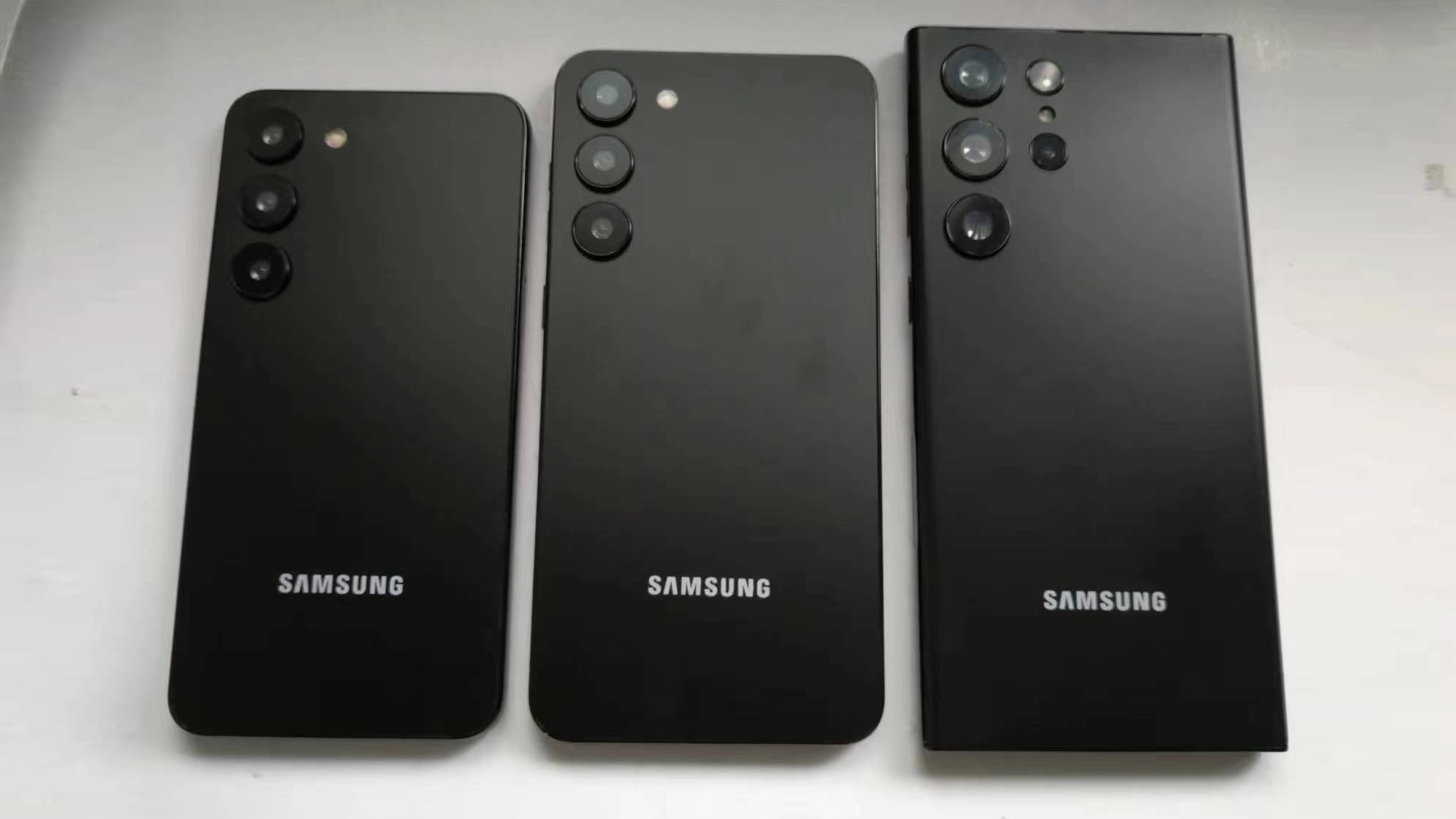 The standard and Plus models of the S23 this year appear to shrug off the Contour Cut camera module of the previous two generations of Galaxy S phone, in favor of something a little more sleek and sharp.
TechRadar's Editor in Chief, Marc McLaren has done a deep-dive on the difference between the three expected models in our Samsung Galaxy S23 vs S23 Plus vs S23 Ultra comparison feature.
What we expect to see at Samsung Unpacked There have been a lot of rumors flying around, but what exactly are we expecting to see at Unpacked? The main news will be the S23 series, but here's a broad overview of everything that's likely en route.
Samsung Galaxy S23: The S23 looks like a relatively minor upgrade on the Samsung Galaxy S22, with the same 6.1-inch FHD+ screen, the same 120Hz refresh rate, and the same rear camera setup. But a new chipset – most likely the Qualcomm Snapdragon 8 Gen 2 – looks a cert, and the design should be brought more in line with the S23 Ultra.
Samsung Galaxy S23 Plus: As with the S23, the Galaxy S23 Plus is likely to be an evolution rather than revolution. Expect a bigger 6.6-inch FHD+ screen and a larger battery than on the vanilla model, but not many other differences.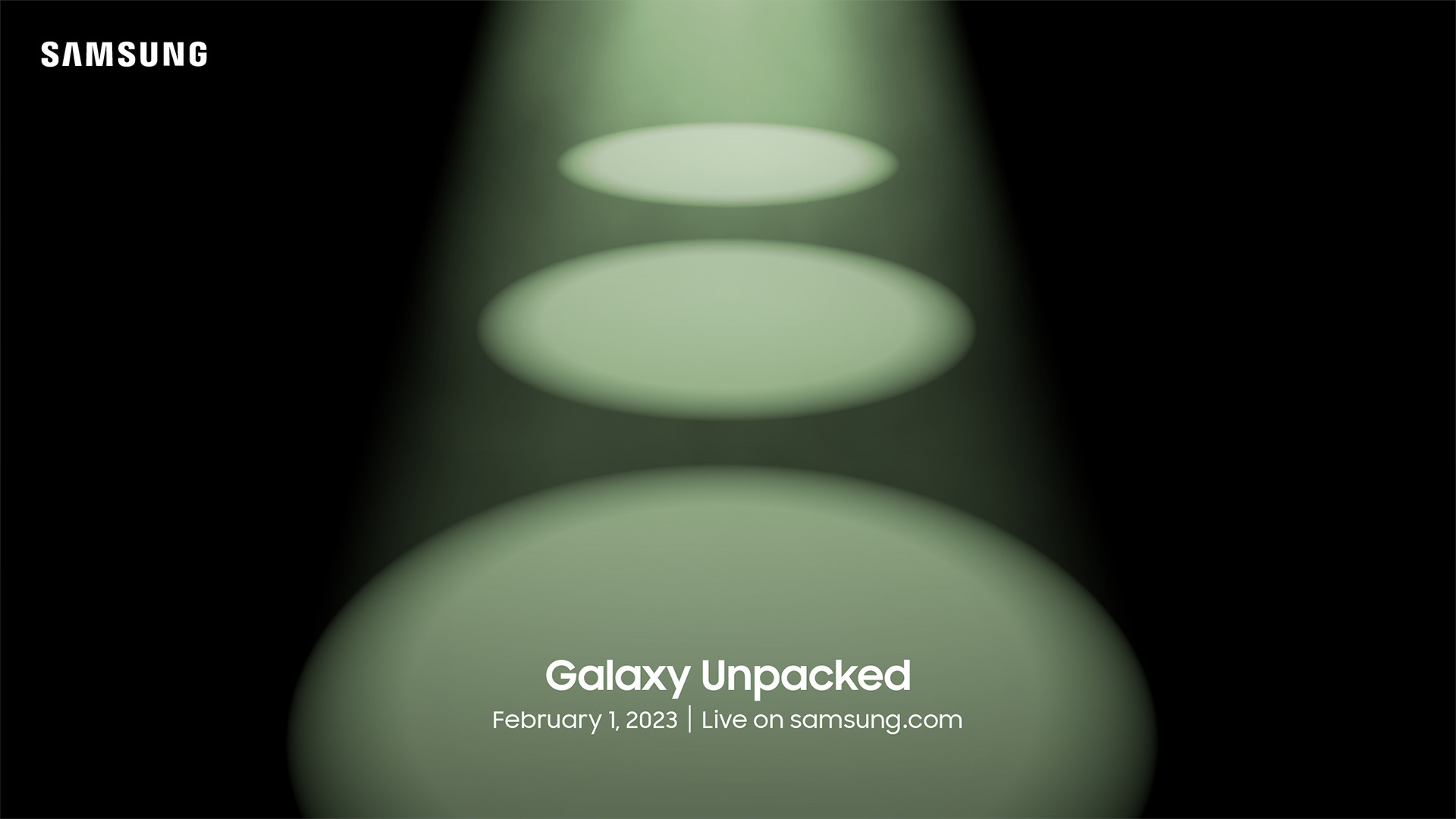 Samsung Galaxy S23 Ultra: The standout reveal at Galaxy Unpacked should be the Samsung Galaxy S23 Ultra. As well as getting a powerful new chipset it's tipped to get a whopping 200MP sensor on the rear camera. Elsewhere, a 6.8-inch QHD+ screen, up to 12GB of RAM, up to 1TB of storage, and a 5,000mAh battery should give it the specs to compete with the best phones.
Samsung Galaxy Book 3 family: Rumors suggest that there will be several Galaxy Book 3 models debuting at Unpacked, including the Samsung Galaxy Book 3 Pro, the Galaxy Book 3 Pro 360, and the Galaxy Book 3 Ultra.
One UI 5.1: The only software reveal at the event is likely to be the latest version of Samsung's One UI. This is unlikely to be a huge release, with bigger changes likely held back for the arrival of Android 14 later this year.
Good afternoon and welcome to our Samsung Galaxy S23 live blog. 
We're now just over two hours from Samsung Galaxy Unpacked, which is due to start at 10am PT / 1pm ET / 6pm GMT today on February 1, or 5am AEDT on February 2 for those tuning in from Australia.
The last-minute leaks have been plentiful, with official imagery, marketing videos and spec sheets raining down to give us a pretty clear idea of what to expect from Samsung's flagships (on paper, at least).
But while we'll be serving up a refresher on what we already know about the S23 series, this live blog will also shine a spotlight on the details we don't know, like their pricing and release dates. We'll also bring you our expert opinions on features like the S23 camera systems and processors.
So, let's crack on with the show…