Technology
Samsung Galaxy S23 series to be dearer in India with a price hike of up to ₹7,000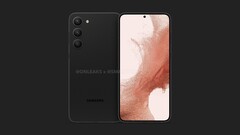 Indian prices for the Galaxy S23 series have been revealed by a new leak. The vanilla Galaxy S23 will start at ₹79,999 (US$981), the Galaxy S23+ at ₹89,999 (US$1,104) and the Galaxy S23 Ultra at ₹114,999 (US$1,410), making them a tad more expensive than last year's models.
With most of the specs out of the way, the only piece of the Galaxy S23 series puzzle has been its price. That, too, has been revealed for multiple regions. Unsurprisingly, the trio's price has shot up in many markets due to the ongoing economic conditions. Now, MySmartPrice has revealed how much Samsung's upcoming flagships will cost in the world's second-largest smartphone market- India.
Samsung Galaxy S23 (8 GB RAM, 128 GB storage): ₹79,999 (US$981)
Samsung Galaxy S23+ (8 GB RAM, 128 GB storage): ₹89,999 (US$1,104)
Samsung Galaxy S23 Ultra (8 GB RAM, 256 GB storage): ₹114,999 (US$1,410)
The base Galaxy S23 is ₹7,000 (US$86) more expensive than last year's Galaxy S22, while the Galaxy S23+ and the Galaxy S23 Ultra have had their prices increased by ₹5,000 (US$61) over their predecessors. The improvements bought forth by the Galaxy S23 series somewhat justify the price increase, along with the Galaxy-exclusive Snapdragon 8 Gen 2 SoC that powers the trio.
Those who pre-reserved the Galaxy S23, Galaxy S23+ or Galaxy S23 Ultra on Samsung India's website will be eligible for some exclusive upgrade offers. E-commerce platforms such as Flipkart and Amazon will also look to sweeten the pot with their own promotions. Reception for last year's Galaxy S22 series was lukewarm, at best, with 70,000 pre-bookings. That figure is unlikely to go up by any meaningful amount this year given an average Indian has to work for at least two months to be able to afford a base Galaxy S23.
Related Articles
Anil Ganti – Senior Tech Writer – 1247 articles published on Notebookcheck since 2019
I've been an avid PC gamer since the age of 8. My passion for gaming eventually pushed me towards general tech, and I got my first writing gig at the age of 19. I have a degree in mechanical engineering and have worked in the manufacturing industry and a few other publications like Wccftech before joining Notebookcheck in November 2019. I cover a variety of topics including smartphones, gaming, and computer hardware.
Anil Ganti, 2023-01-28 (Update: 2023-01-28)