Entertainment
Satchel: Malcolm Young influenced more guitarists than Eddie Van Halen or Eric Clapton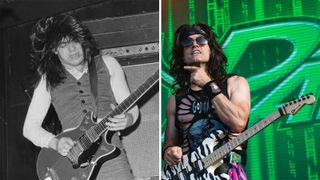 (Image credit: Michael Putland / Aldara Zarraoa / Getty)

Steel Panther electric guitar player Satchel has claimed that AC/DC's late rhythm guitarist, Malcolm Young, was more influential than Eddie Van Halen, Robert Johnson or Eric Clapton. 
Speaking in a recent interview with Loudwire (opens in new tab) in which he looked back on the most influential albums from his teenage years, Satchel staked a claim for the underrated rhythm master's place in the pantheon of guitar greats.
"Not enough guitar players talk about Malcolm Young," says Satchel in the clip. "I'm gonna go out on a limb here. [Actually] I don't think it's a limb I'm going on, but I'm gonna say this: Malcolm Young was probably the most influential guitar player in rock. If not, in guitar [music, in general]."
"[He] probably influenced more people as a guitar player than Eddie Van Halen," continues Satchel. "I'm saying this: more than Eddie Van Halen, Robert Johnson, Eric Clapton, and any guitar player, because think about all the bands that have come after AC/DC that have tried to write AC/DC-sounding songs with three chords."
The concept and extent of a player's influence is obviously hard to quantify and highly subjective, but it's an interesting thought. For instance, while it's often the lead players getting the spotlight, many guitarists – we would wager the majority, even – pick up the instrument to play songs or riffs, rather than solos. 
AC/DC were formed in 1973 by Malcolm and Angus Young. While the punk movement that came along a few years later is often credited with lowering the barriers to entry for budding guitarists and songwriters, AC/DC's no-nonsense rock songs and flair for an irresistible riff arguably sparked a similar sentiment. It's certainly hard to find a guitarist that hasn't tried on a few AC/DC riffs at some point in their playing career.
Looking at the numbers, the Australian band are the ninth highest-selling artist of all time in the US, according to the RIAA (opens in new tab), shifting an astonishing 75 million albums across their 50-year career. Only Led Zeppelin, The Eagles and Garth Brooks outpace them in terms of guitar-based artists from the '70s onwards. 
By that token, Satchel has a pretty convincing case to make for Malcolm Young having a wider influence than Van Halen and Clapton, but Young might get pipped by Jimmy Page. Yes, it's pure speculation, obviously. But it's fun speculation…
Gretsch certainly regards Young as one of its most influential players – as evidenced by the fact he was recently posthumously honored with a new signature guitar that aims to recreate an early incarnation of his trusty Jet, dubbed the 'Red Beast'.
Thank you for reading 5 articles this month*
Join now for unlimited access
US pricing $3.99 per month or $39.00 per year
UK pricing £2.99 per month or £29.00 per year 
Europe pricing €3.49 per month or €34.00 per year
*Read 5 free articles per month without a subscription
Join now for unlimited access
Prices from £2.99/$3.99/€3.49