Sports
"That's Blasphemous": Stephen A. Smith Earning More and Getting Richer Than 5x NBA Champion Leaves Twitter in a Meltdown
The NBA is one of the biggest sporting leagues in the world, with the remuneration of the players and coaches crossing multiple millions of dollars. The media coverage is also unbelievably widespread. People from more than 200 countries view NBA games daily during the regular season and the playoffs. It's agreeable that the media houses pay their TV presenters and analysts accordingly. However, the fact that popular NBA analyst Stephen A. Smith's salary reportedly exceeds that of a 5x NBA champion has shocked fans. 
Stephen A. Smith is one of the most popular NBA analysts in basketball broadcasting history. He is known for his charismatic personality and his bold take on the game. He became the face of ESPN in the 2010s. Notably, the 55-year-old veteran analyst even complained of getting underpaid.
NBA fans have their say on reports of Stephen A. Smith's reported salary
ADVERTISEMENT
Article continues below this ad
The ESPN analyst reportedly makes a whopping $12 million a year, and contrarily, it is higher than the salary of Golden State Warriors coach Steve Kerr. According to Yahoo Sports, Kerr earns $9.5 million. Moreover, a recent tweet shared by Legion Hoops revealed that Smith earns more than every NBA coach except San Antonio Spurs head coach, Gregg Popovich. Earlier, Gregg Popovich's salary was reported at $11.5 million.
Reacting to the tweet, NBA fans swarmed the comments section expressing their discontent. One user said, "That's blasphemous." 
DIVE DEEPER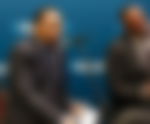 Following are some more reactions from NBA Twitter:
All that for some bad takes and screaming.

— Rob (@ViewsOfACasual) January 21, 2023
how much does Gregg get paid to win 15 games?

— joe (@aimbotjoe) January 21, 2023
When did Stephen a smith start coaching??

— Sean (@Terpingsworth) January 21, 2023
ADVERTISEMENT
Article continues below this ad
Notably, Gregg Popovich led the US national basketball team as head coach to win the gold medal at the 2020 Tokyo Olympics.
Networth comparison between Stephen A. Smith and Gregg Popovich
According to Celebrity Networth.com, the ESPN analyst has a net worth of $20 million whereas the Spurs head coach has a net worth of $40 million. Popovich has won five championships and a gold medal at the Olympics during his coaching career. Recently, Smith complained that his pay is considerably low compared to his white colleagues. 
ADVERTISEMENT
Article continues below this ad
Watch This Story – Kobe Bryant VS LeBron James: Reliving Their 2009 Epic Duel 
What do you make of Stephen A. Smith's reported pay? Let us know your thoughts in the comments below.