Health
The 10 Best Cooling Weighted Blankets of 2023, Tested by Experts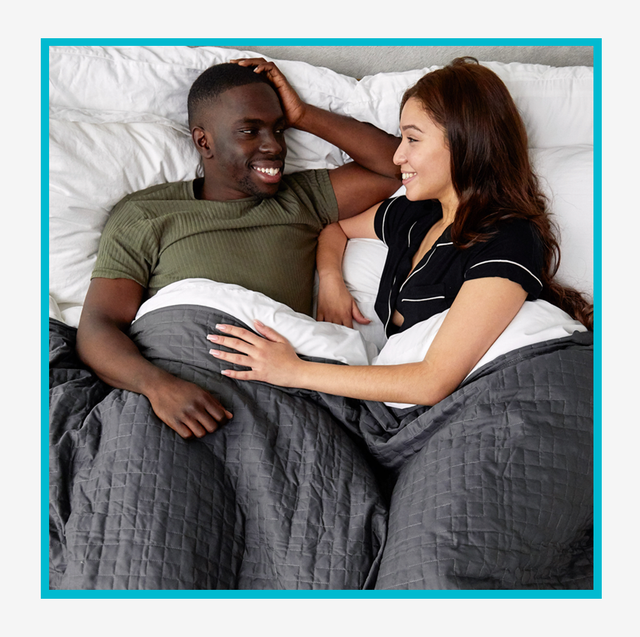 Gravity
THERE'S NOTHING better than getting home after a long day and sliding into a nice, comfortable bed. While everyone may obsess over the perfect mattress or the best pillows, there's a third component to a comfortable night's sleep that's far too often forgotten: your comforter or blanket. When you're swaddling yourself for the night, you want to be surrounded by a plush fabric cocoon that's not too hot or too cold, but Goldilocks style: just right. On top of that, you want something that'll really help you get to sleep, not just be a useless tarp on your bed.
That's where weighted blankets come in. Filled with plastic pellets or glass beads, these unique blankets can weigh anywhere from five to 30 pounds. They're perfect for anyone who has trouble getting to sleep or wants to reduce stress while laying in bed, even for naps. These products feel like a hug to bestow a calming effect upon the user.
As for what weight your blanket should be, the Sleep Foundation recommends getting a blanket that's around 10 percent of your body weight, and they even offer a helpful chart on the ideal weight for everyone from children to adults. To be honest, though, it's mostly a matter of personal preference. Be warned: At first, the weight of the blanket may feel awkward while you're sleeping, considering most ordinary comforters weigh only a few pounds in comparison. Allow a little time to get used to it because, trust us, it's worth it.
But with all that weight comes noticeable heat. That's why we came up with a list of some of the best cooling weighted blankets on the market. They're the perfect gift for people who love to destress at home on their couch, the restless sleeper in your life, or just a treat-yo'-self gift. Here are the best cooling weighted blankets of 2023.
Best Cooling Blankets | Best Cooling Sheets | Best Cooling Mattress Toppers | Best Sheets
Best Weighted Blanket Overall
ZonLi
Cooling Weighted Blanket
| | |
| --- | --- |
| Weight options | 5-30 pounds |
| Weight type | Glass beads |
Best Splurge Cooling Weighted Blanket
Bearaby
Bearaby Cotton Napper (15 lb)
| | |
| --- | --- |
| Weight options | 10-25 pounds |
| Weight type | Heavy knitted cotton yarn |
Best Value Cooling Weighted Blanket
Weighted Idea
Weighted Blanket
| | |
| --- | --- |
| Weight options | 7-30 pounds |
| Weight type | Glass beads |
Best Midrange Cooling Weighted Blanket
Gravity
Gravity Blanket Cooling Weighted Blanket
| | |
| --- | --- |
| Weight options | 15-30 pounds |
| Weight type | Fine-grade glass beads |
Most Travel-Friendly Cooling Weighted Blanket
Aricove
Cooling Weighted Blanket
| | |
| --- | --- |
| Weight options | 5-20 pounds |
| Weight type | Superfine glass beads |
Best Budget Cooling Weighted Blanket
Ourea
Cooling Weighted Blanket (15 lbs)
| | |
| --- | --- |
| Weight options | 3-25 pounds |
| Weight type | Glass beads |
Wonap
Cooling Weighted Blanket
Comma Home
Bamboo Modal Weighted Blanket (15 lb)
Baloo
Weighted Blanket/Throw (12 lbs)
Helix
Weighted Blanket (15 lb)
How to Find the Best Cooling Weighted Blanket for You
Weighted blankets aren't complicated, but finding the perfect one for you can be. Like shopping for any new bedding, you'll want to consider a few things before dropping $50 or more on the first decent cooling weighted blanket you find. Here's the low-down on what to look for.
Weight
First and foremost, you'll want to think about how heavy you should go. The rule of thumb is to select a weighted blanket that's roughly 10% of your body weight. So, a 150-pound sleeper would do best with a 15-pound weighted blanket; a 300-pound person might want a heavier, 30-pound model. If you fall in between suggested weights (say, 180 pounds), we typically recommend sizing up (in this case, to a 20-pound blanket). If this is your first weighted blanket, consider sizing down with a slightly lighter option until you get used to sleeping with the extra weight on top of you.

Filling
What's inside a weighted blanket is just as important—maybe more so—than what's on the outside. Almost every weighted blanket on the market (including the cooling weighted blankets in this roundup) is filled with tiny glass beads or plastic poly pellets. Glass has the edge here—it's denser than plastic, has inherent cooling properties, and is more eco-friendly. Naturally, it's also more expensive, but here you really do get what you pay for.
But the very best option, in our opinion, is a non-filled model that instead uses a chunky, heavyweight fabric yarn to give the blanket its heft (like those from Bearaby). This type of cooling weighted blanket is usually softer and has the added benefit of being machine-washable, too, without the need for a separate duvet cover.

Maintenance and Care
Most bead-filled weighted blankets cannot be machine-washed. Trust us—trying to do so can be disastrous. It's recommended instead that they be hand-washed or spot-cleaned. For those models, you'll likely want to use a machine-washable duvet cover to keep your blanket fresh.
How We Selected the Best Cooling Weighted Blankets of 2023
Our sleep-loving staff (including writers and in-house nap experts) researched and personally tested dozens of top-selling cooling weighted blankets from many of the best online bedding brands. We carefully compared every feature and spec, including comfort, durability, ease of care, weight distribution, available weight options, price, and more. We also considered well-reviewed blankets (with at least 200 positive ratings) from the etailers we trust most. The list above represents our honest picks of the best cooling weighted blankets worth buying in 2023.
Mike Richard
Mike Richard has traveled the world since 2008.