Health
The 10 Best Tennis Rackets to Buy Now, According to Serena Williams' Former Coach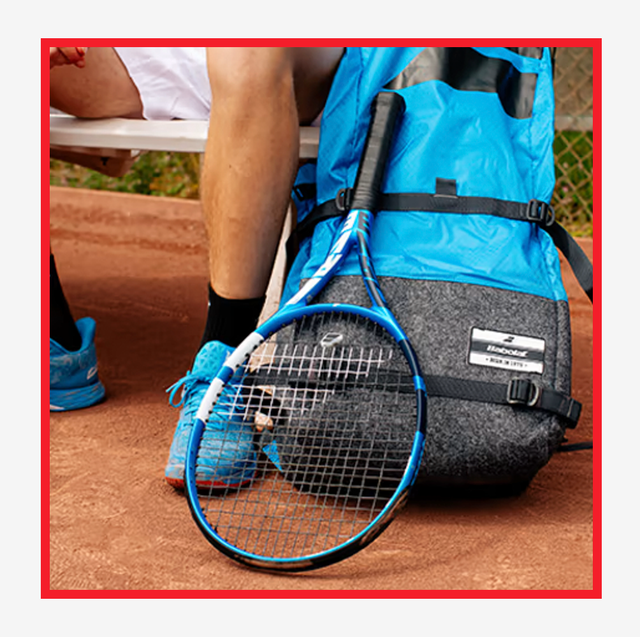 Courtesy of Retailer
Contrary to other sports, you can play tennis well into old age. And as far as gear goes, all you really need to play tennis are some athletic sneakers, workout clothes, a ball, and, most importantly, a quality racket.
The best tennis rackets for men will help maximize performance while helping prevent injuries. Just like wearing the wrong size of trainers, using an ill-fitted racket can cause sprained wrists and aches. That's why any old bat won't do. To really find the best tennis rackets on the market, we consulted with legendary coach Rick Macci.
Macci, 67, has been reaching tennis for decades now out of Florida. You might've heard of his most notable pupils: Venus and Serena Williams. In fact, he was recently portrayed in King Richard by actor Jon Bernthal.
When it comes to buying your first racket, Macci recommends trying them out in-person if you can. "You can grab a few rackets before you purchase one and demo them," he says. "Or you can pick up old rackets laying around your house or your friends house to see how they feel in-hand."
Even though in-person might be the preferred choice, there's actually an at-home method to determine you grip size that works pretty well. According to Tennis Warehouse, you can measure your grip size with a ruler. Start by holding your hand open and fingers extended close together, then align the ruler with the bottom lateral crease of your palm. Next measure to the tip of your ring finger and you should get a length in the 4-inch range you can then use to determine your grip size.
Grip size is the first big step to finding your tennis racket. Now that you know how to find your size, here are some rackets suited for all types of players—and with Macci's seal of approval, no less.
Best Racket for Beginners
Hyper Hammer 5.3
Extremely lightweight
Easier to generate spin
"You can't really go wrong with the big name rackets like Wilson, Babolat, HEAD—they're all going to have good quality because they make rackets for the pros," Macci says.
If you've already played some tennis in your past and your thinking about getting more into the sport, then a racket around a $100 price point is going to suit you best. Wilson's Hyper Hammer 5.3 is a solid lightweight racket that's going to get you comfortable with a higher frequency of play.
Length: 27.5 in
Weight: 8.96 oz
Headsize: 110 sq. in

Read more: Best Sneakers for Men
Most Balanced Racket
2021 Boost Drive
More maneuverable
Balanced weight
"Adults naturally get a lot more power for free in their game (as opposed to junior players), so they can mess with the weight of the racket more," Macci says. "Everybody likes to have more juice at the end of the day, and a brand that I always come back to is Babolat."

Babolat rackets appeal to a wide arrange of modern players thanks to their well-researched design. The French brand also has some of the biggest pros in the world using its rackets. The Boost Drive has a little more weight on it than the Wilson Hyper Hammer (9.8 ounces strung), which in turn is going to give you a more zip on your returns.
Length: 27 in
Weight: 9.8 oz
Headsize: 105 sq. in
Read more: Best Workout Clothes
Best Oversized Racket
Graphite Oversize 110 25th Anniversary
Large surface area
Heavy weight generates more power
Could be too heavy for some players
"When it comes to weight it's always better to go lighter because swinging the racket will be easier on your elbow and shoulder," Macci says. "However a heavier racket will give you more power, so if you're confident you can go up then you'll have those benefits."

Prince is another big player in the tennis world. The Graphite 110 25th Anniversary is a modern take on a classic model. What's unique about this racket is it's made with a bigger surface area, which makes it easier to square up the ball. However with the increased surface comes extra weight (12.9 oz strung) so be aware.
Length: 27 in
Weigth: 12.9 oz
Headsize: 110 sq. in
Read more: How To Treat Tennis Elbow
Best High-End Racket
Pure Drive 2021
Lots of power
Generates high level of spin
If you're playing several times a week, that's when you should start thinking about a high-end racket," Macci says. "You're going to get more power and better spin, and you're going to have a racket that lasts you for a long time."
The Pure Drive is a perennial best-seller in the world of tennis. While the racket is used by many different pros, the Pure Drive became widely popular when Andy Roddick started using one when playing on tour.
When talking about high quality rackets, Macci added you want to get your racket strung by a professional. This Pure Drive pictured above comes unstrung (hence the empty center), so you will want to take this to a local sporting goods shop and ask for a tennis pro to help you string it. It sounds like a lot (we know) but once you have it set up you will have the best dang racket in the game.
Length: 27 in
Weight: 11.2 oz
Headsize: 100 sq. in
Best for Recreational Play
Pro Tennis Racket 2-Pack
Comes in a 2-pack
Easy to store and take care of
Not ideal for weekly playing
If you're looking for a simple tennis racket setup to have around for impromptu games, then this OPPUM 2-pack is the move. The racket's are lightweight and hit well with limited vibration. A nice carrying bag also comes with purchase.
Length: 27 in
Weight: 10.2 oz
Headsize: 107 sq in
Most Stylish
Burn Spin 103
A great middle-of-the-pack racket, the Burn Spin 103 comes just under $100 while still offering excellent features. What catches our eye on this model the most though is the fierce yellow and black colorway.
Length: 27.25 in
Weight: 10.07
Headsize: 103 sq. in
Most Positive Amazon Reviews
Ti.S6
HEAD is another brand Macci mentioned one can't go wrong with. The Ti.S6 is a well-known model best suited for beginners thanks to it's lofty weight and durable composite body.
Length: 27.75 in
Weight: 8 oz
Headsize: 115 sq. in
Read more: Best Polo Shirts for Men
Best Bang for Your Buck
Geo Speed
The best feature of the Geo Speed is its price. For around $50 you get a name brand racket made from strong composite. The racket is also optimized for easy returning thanks to an enlarged surface area (105″).
Length: 27.5 in
Weight: 10.4 oz
Headsize: 105 sq. in
Best High-End Pre-Strung Racket
Pro Staff 97 v13
The Pro Staff 97 is one of Wilson's top high-end models. A signature feature of the racket is the Braid 45 material, which is a mix of Pro Staff Graphite and Kevlar that's woven together to increase stability and power.
This racket also comes unstrung, however you can add an option for Wilson to have it strung for you before being shipped to your address.
Length: 27 in
Weight: 11.64 oz
Headsize: 97 sq. in
"The most important thing to know when choosing a racket, especially if you're a beginner, is knowing your grip size," says Macci. "You want to make sure that your hand can kind of handle the racket comfortably. The last thing you want to do is have a handle that's too big."
Tennis racket grips typically are offered in eight different sizes—which includes the measurement of the circumference around the handle including pre-taped stock grip. Sizes start at 3 7/8 inches (or double zero in European sizing) and work up by 1/8 inch each size up to 4 3/4 inches (or size six in European).
A Quick Note On Buying Tennis Balls
Buying the proper tennis balls is almost as important as having a proper racket. Macci tells us you always want to use new balls if you can, "You're going to get a little more pop and a little more feel, and obviously the game is going to be more enjoyable too. Tennis is about having fun, after all."
Macci said he likes Dunlop the best. The brand is the official ATP ball (Association of Tennis Professionals) and it's also what Macci uses for his tournaments in Boca Raton, FL. Two others Macci named for quality tennis balls were Wilson and Penn.
This content is created and maintained by a third party, and imported onto this page to help users provide their email addresses. You may be able to find more information about this and similar content at piano.io