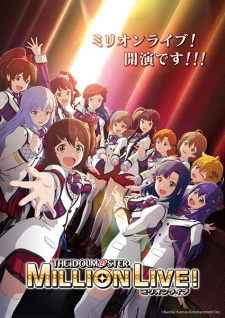 The official website of the The [email protected] Million Live! television anime revealed five additional cast members on Monday. The anime is set to broadcast in October 2023.
Cast
Misaki Aoba: Chika Anzai (Lycoris Recoil)
Kotori Otonashi: Juri Takita (The [email protected])
Junjirou Takagi: Houchuu Ootsuka (Paripi Koumei)
Producer: Genta Nakamura (Mamahaha no Tsurego ga Motokano datta)
Chief Producer: Kenji Akabane (Senki Zesshou Symphogear)
Shinya Watada (Gundam Build Divers Re:Rise) is directing the anime at Shirogumi. Youichi Katou is handling the series composition and penning the script. Tetsuya Ishii (Revisions animation director) and Kahori Tsuta (Night Head 2041 animation director) are designing the characters. Lantis is handling the music.
The television anime is based on the Million Live! spin-off series of Bandai Namco Entertainment's The [email protected] multimedia franchise, which began as an arcade game in 2005.
Source: Comic Natalie