Sports
Tiger Tip-Off Preview: Auburn
Mizzou's two-game road trip started off with a bang as graduate senior guard DeAndre Gholston hit a buzzer-beater roughly 30 feet from the basket to take down No. 6 Tennessee on Saturday. The Tigers now look to close out the trip on a high note, taking on Auburn.
The Tigers from the south looked like one of the best teams in the nation throughout most of the first three months of the season, consistently ranked in the top 25 of the AP Poll and peaking at No. 11 on Dec. 5. But Auburn hit a wall in late January that it hasn't recovered from, losing five of its last six games. As a result, the team didn't receive any votes in this week's AP Poll.
Part of the slump has to do with the quality of competition the Tigers have faced. Four of their past five losses have come against the top three teams in the SEC — Alabama, Texas A&M and Tennessee. The other loss came in the Big 12/SEC Challenge against West Virginia, which was rated as the 20th-best team in the country by KenPom as of Monday.
Missouri and Auburn are in a three-way tie with Kentucky for fourth place in the conference. A win in a battle of the Tigers could go a long way toward securing a double-bye in the league tournament. MU head coach Dennis Gates thinks it'll be an important matchup for his team.
"They have Final Four residue. You know, being able to get to that level says a lot," Gates said. "They are a very good team, they have a balance of inside play, they have a balance of perimeter play, they have great athleticism. You know, across the board it's a really good team and (head coach) Bruce Pearl has done a tremendous job at Auburn."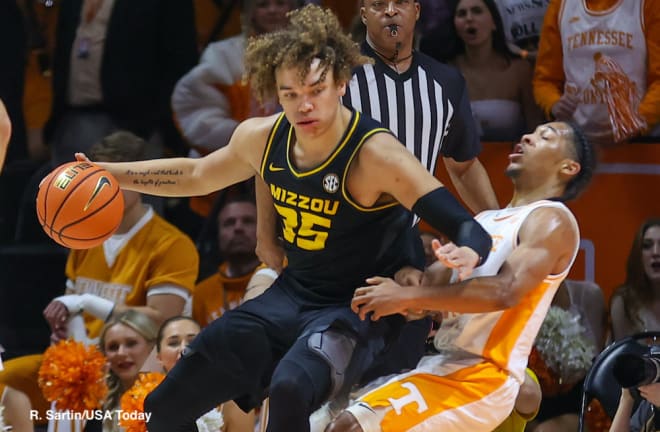 TIP TIME INFORMATION
Missouri (19-6, 7-5 SEC) at Auburn (17-8, 7-5)
WHEN: 6 p.m. CT
WHERE: Neville Arena, Auburn, Alabama
TV: ESPN2
SERIES: Auburn leads, 8-6
KENPOM PREDICTION: Auburn 81, Mizzou 75
PROJECTED STARTERS
BY THE NUMBERS
BEST LINEUP OF THE LAST 5 OUTINGS (per CBB Analytics)  
Sean East II-D'Moi Hodge-DeAndre Gholston-Kobe Brown-Mohamed Diarra
Minutes played: 9
Offensive rating: 134.2
Defensive rating: 60.4
Net rating: +73.8
KEYS TO THE GAME
1. Stay in rhythm. It can't be overstated: Missouri's offensive performance against Tennessee, the No. 1 defense in the NCAA, was nothing short of impressive. The 86 points the team scored was the most the Volunteers allowed in any game this season. MU shot 53.8% from beyond the arc, its highest mark of the year. Shooting could be a major factor again on Tuesday. The team often does a below-average job from deep when playing on the road and Auburn has been nearly as stifling as Tennessee along the perimeter this season, holding opponents to 27.3% on 3s, ranking fourth in the nation. One way Mizzou could counteract a cold night from distance is by getting to the free throw line — Auburn allows opposing teams to shoot 38.4 free throws per 100 field goal attempts, the 63rd most in the country according to KenPom.
2. Protect the paint. Auburn doesn't rely on 3-pointers nearly as much as Missouri on offense. More than half of AU's points have come from inside the arc, where the team connects on 51.9% of its attempts. Baiting Auburn into taking more treys has panned out recently — the team has taken at least 24 triples in each of their last three games (all losses) and made just 25.3% of them. Mizzou still has to be careful about who it leaves open. Against Tennessee, the team allowed senior guard Tyreke Key too many looks from long range and he cashed in with five 3-pointers in the second half, helping the Volunteers erase a 17-point deficit. Auburn senior forward Jaylin Williams has made 37.7% of his 3s and is capable of making MU pay for defensive lapses. But against most others on the roster, Missouri should be OK to sag off a bit.
3. Swarm Wendell Green Jr. The junior point guard ranks third in the SEC averaging 4.3 assists per game, trailing just Kentucky's Sahvir Wheeler and Tennessee's Zakai Zeigler. Green doesn't do as good of a job at protecting the ball as the facilitators ahead of him, though, turning it over on 21.1% of personal possessions. In Auburn's last five losses, Green has an assist-to-turnover ratio of 21-16, or 1.31-1. Generating extra possessions was an important piece of Mizzou's win over the Volunteers on Saturday. Tennessee coughed the ball up 10 times, nine of them being the result of MU steals, leading to 19 points off of turnovers for the Tigers. Applying the same amount of pressure against Auburn could pay dividends.
Everyone on here already has insurance (or they should). Everyone on here also cheers for the Tigers (or they should). In college sports the hot button issue is NIL. A school can no longer compete the way they did just a few short years ago without a robust NIL collective. In our economy, the hot button issue is inflation. Here's your opportunity to see about saving money on something that the state requires you to have on your car and your lender requires you to have on your house. Oh and by the way, just a quote from James's office will get a donation on your behalf to Every True Tiger Foundation, one of Mizzou's NIL initiatives. Blink if you like saving money. Blink twice if you want to do everything you can to position your favorite college program to be as competitive in the SEC as possible. Give James's office a call at 314-961-4800 or get a quote online at carltoninsurance.net.
"If your insurance costs a leg and an arm, call James Carlton State Farm."