Entertainment
Tom Verlaine, influential Television guitarist, dies at 73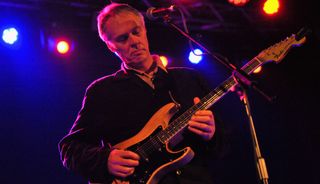 (Image credit: Richard Martin Roberts/Redferns/Getty Images)

Tom Verlaine, the guitarist and co-founder of the seminal New York band Television, has died at the age of 73.
According to the New York Times (opens in new tab), Verlaine's death was announced by Jesse Paris Smith, the daughter of another New York City rock icon, Patti Smith. No cause of death was given, though Smith said (opens in new tab) that Verlaine died "after a brief illness."
With fellow guitarist Richard Lloyd, Tom Verlaine drove the sound of Television, a proto-punk quartet that specialized in nervy, arty rock driven by tight rhythms and Verlaine and Lloyd's interlocking, weaving guitar work.
Though never commercially successful in their day, Television were hugely influential, emerging – soon after their formation in 1973 – as one of the first unconventional bands to regularly play New York City's soon-to-be-legendary CBGB and Max's Kansas City clubs. 
From that perch, Television left a significant mark on the city's nascent punk scene, which included a number of bands that would go on to significantly eclipse them in popularity years later, such as Talking Heads, the Ramones and Blondie.
Born Thomas Miller in 1949 in Denville, New Jersey, Tom Verlaine first took up the piano, then the saxophone, before moving to the guitar in his early teens, after hearing (opens in new tab) the Rolling Stones' 19th Nervous Breakdown.
Verlaine's first love, though, was jazz – particularly of the more avant-garde persuasion – and its influence permeated his playing just as much as rock 'n' roll. 
After a few aimless years in his late teens and early twenties, Verlaine found himself in New York City, and formed Television in 1973 – after the dissolution of another short-lived band – with Richard Hell on bass, Billy Ficca on drums and Richard Lloyd on guitar. 
The band's 1975 debut single, the lurching, nine-minute Little Johnny Jewel, Parts 1 & 2, was revolutionary. Built over a simple bass line, and led out with six minutes of skittering, free-form soloing the likes of which hadn't been heard in rock since the glory days of Lou Reed's Velvet Underground, it surfaced before almost any of the releases from the band's punk contemporaries, and indeed sounded nothing like any of them.
Verlaine, wrote Patti Smith (opens in new tab) in a Rock Scene review at the time, played "lead guitar with angular inverted passion like a thousand bluebirds screaming."
Though Hell left the group in 1975, Television soldiered on with bassist Fred Smith, subsequently writing, recording and – in 1977 – releasing their seminal debut album, Marquee Moon.
Containing classic tracks like See No Evil, Venus and the epic 10-minute title track, Marquee Moon further showcased Verlaine and Lloyd's distinct six-string chemistry, and spidery, intertwining riffs and leads.  
"It was more expansive than most of the other [albums] going on around it," Sonic Youth singer and guitarist Thurston Moore said of the album in a 2020 Shortlist interview (opens in new tab). "The guitar interplay between Richard Lloyd and Tom Verlaine was just really informative for me. It was really dry and super poetic whilst still being really unpretentious."
Sadly, neither Marquee Moon, nor its follow-up, 1978's Adventure, sold particularly well – despite the critical acclaim that followed both records – and in 1978, the band dissolved.
From there, Verlaine pursued a prolific, and eclectic, solo career that included a 1992 instrumental effort, Warm and Cool.
Television reunited in the early '90s, and in the decades since performed sporadically (though Lloyd departed the group in 2007). Their third and final album, Television, was released in 1992.
Despite his influence on decades of punk-, indie- and alt-rock guitarists, Verlaine never thought of himself as a guitar hero, quipping once in an interview (opens in new tab), "I really can't remember solos very well and I don't really care; sometimes I'll start a solo the same way just to get by for a few minutes while I'm thinking or feeling my way into something different."
Never one to lean into his fame, either, Verlaine also once said (opens in new tab), "I like thinking of myself as invisible. I find it a very advantageous way to live. Unfortunately, it's not the way the music business works."
Thank you for reading 5 articles this month*
Join now for unlimited access
US pricing $3.99 per month or $39.00 per year
UK pricing £2.99 per month or £29.00 per year 
Europe pricing €3.49 per month or €34.00 per year
*Read 5 free articles per month without a subscription
Join now for unlimited access
Prices from £2.99/$3.99/€3.49