Business
US Supreme Court conservatives question Biden student debt relief
2/2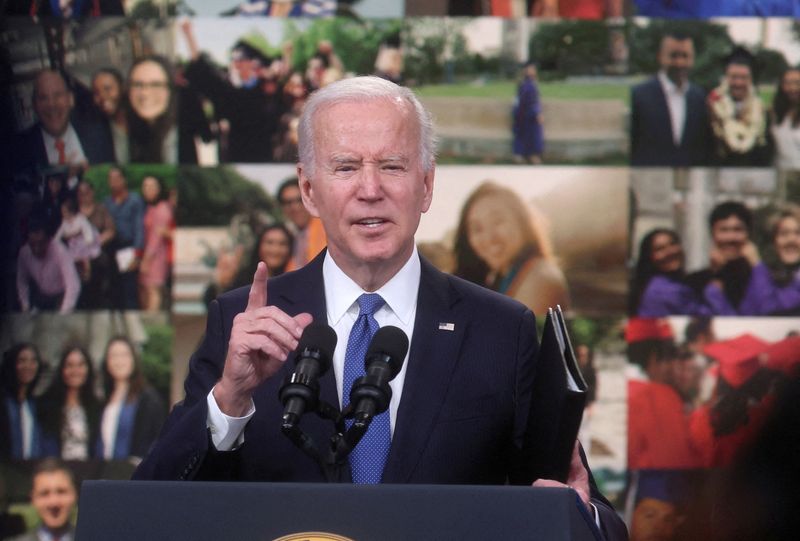 © Reuters. FILE PHOTO: U.S. President Joe Biden delivers remarks about the student loan forgiveness program from an auditorium on the White House campus in Washington, U.S., October 17, 2022. REUTERS/Leah Millis

By John Kruzel and Andrew Chung
WASHINGTON (Reuters) -Conservative U.S. Supreme Court justices on Tuesday signaled skepticism over the legality of President Joe Biden's plan to cancel $430 billion in student debt for about 40 million borrowers, with the fate of his policy that fulfilled a campaign promise hanging in the balance.
The nine justices heard arguments in the Biden administration's appeal of two lower court rulings blocking the policy that he announced last August in legal challenges brought by six conservative-leaning states and two individual student loan borrowers opposed to the plan's eligibility requirements. The arguments were ongoing.
Under the Democratic president's plan, the U.S. government would forgive up to $10,000 in federal student debt for Americans making under $125,000 who took out loans to pay for college and other post-secondary education and $20,000 for recipients of Pell grants awarded to students from lower-income families.
U.S. Solicitor General Elizabeth Prelogar, defending the program on behalf of Biden's administration, faced skeptical questions from conservative members of the court including Chief Justice John Roberts and Justices Samuel Alito, Clarence Thomas and Brett Kavanaugh.
Roberts questioned whether the scale of the debt relief could be considered a mere modification of an existing student loan program.
"We're talking about half a trillion dollars and 43 million Americans. How does that fit under the normal understanding of 'modify'?" Roberts asked.
The policy, intended to ease the financial burden on debt-saddled borrowers, faced scrutiny by the court under the so-called major questions doctrine. Its 6-3 conservative majority has employed this muscular judicial approach to invalidate major Biden policies deemed lacking clear congressional authorization.
Liberal Justice Sonia Sotomayor also noted the high-dollar amount at issue.
"How do you deal with that?" Sotomayor asked Prelogar. "That seems to favor the argument that this is a major question."
Questioned by Alito about whether a member of Congress would consider this policy a major question, Prelogar said, "Of course, we acknowledge that this is an economically significant action. But I think that can't possibly be the sole measure for triggering application of the major questions doctrine."
Prelogar added that Biden's plan "is not an assertion of regulatory authority at all. This is the administration of a benefits program."
Biden's administration has said the plan is authorized under a 2003 federal law called the Higher Education Relief Opportunities for Students Act, or HEROES Act, which authorizes the U.S. education secretary to "waive or modify" student financial assistance during war or national emergencies."
Many borrowers experienced financial strain during the COVID-19 pandemic, a declared public health emergency. Beginning in 2020, the administrations of President Donald Trump, a Republican, and Biden, a Democrat, repeatedly paused federal student loan payments and halted interest from accruing, relying upon the HEROES Act.
Prelogar said that "national policies these days frequently do involve more substantial costs or trigger political controversy."
The program fulfilled Biden's 2020 campaign promise to cancel a portion of the nation's $1.6 trillion in federal student loan debt but was criticized by Republicans and others as an overreach of his authority.
The states that challenged it were Arkansas, Iowa, Kansas, Missouri, Nebraska and South Carolina. The individual borrowers were Myra Brown and Alexander Taylor.
'MASSIVE NEW PROGRAM'
Roberts told Prelogar that the case reminded him of an effort by Trump that was blocked by the Supreme Court to end a program that protects from deportation hundreds of thousands of immigrants, often called "Dreamers," who entered the United States illegally as children.
"This is a case that presents extraordinarily serious, important issues about the role of Congress and about the role that we should exercise in scrutinizing that – significant enough that the major questions doctrine ought to be considered implicated?" Roberts asked.
Kavanaugh said that Congress, in the HEROES Act, did not specifically authorize loan cancellation or forgiveness and that Biden's administration acted to implement a "massive new program."
"That seems problematic," Kavanaugh said.
Hundreds of demonstrators including borrowers jammed the sidewalk in front of the court building, rallying in favor of Biden's relief plan. In a message posted to Twitter, Biden wrote, "The relief is critical to over 40 million Americans as they recover from the economic crisis caused by the pandemic. We're confident it's legal."
The court's liberal justices raised doubts that the state challengers had the proper legal standing to bring their lawsuit based on the claim that Biden's plan would harm Missouri-based student loan servicer known as the Higher Education Loan Authority of the State of Missouri (MOHELA). They noted MOHELA did not itself bring the lawsuit.
"Why isn't MOHELA responsible for deciding whether to bring this suit?" liberal Justice Elena Kagan asked Nebraska Solicitor General James Campbell.
Conservative Justice Amy Coney Barrett pressed further: "If MOHELA is an arm of the state, why didn't you just strong-arm MOHELA and say, 'You've got to pursue this?'" Barrett asked Campbell.
A ruling is due by the end of June.