Sports
Wife's Unusual Question About Millionaire Shaquille O'Neal Leaves Bodybuilding Icon Baffled
Bodybuilder Derek Lunsford's wife Jhelsin Mabaga, has keen observation skills besides being a fitness coach. Recently, the 29-year-old posted a video of an ordinary yet wild thought that the wife posed to her bodybuilder husband when she had a weird question related to NBA legend Shaquille O'Neal. Apparently, Derek Lunsford and his wife were taking a stroll around the mall yesterday when this happened.
While she enjoyed a delicious shake from the famous brand, Shakes and Shack, she flabbergasted Lunsford asking if the shake brand belonged to the $400-million net-worth celebrity, Shaquille O'Neal. 
Derek Lunsford's observant wife relates the shake brand with Shaquille O'Neal
ADVERTISEMENT
Article continues below this ad
Lunsford's wife is a keen observer of things and saw a connection that would otherwise be overlooked by many. Relating the brand's suffix to a name that is synonymous with NBA—Shaquille O'Neal—Mabaga's line of thought has given Derek's fans something to think about. Lunsford had his phone ready and was quick to record the peculiar moment with his wife while she was still enjoying her beverage. He wrote along with the story, "She asked me "Does @SHAQ own Shake Shack??"
The adorable encounter to trouble his wife was responded to with a deadeye expression from Mabaga. Although Mabaga is a great observer, the brand that she mistook for belonging to the NBA legend, actually is owned by the company group, Leonard Green & Partners. 
DIVE DEEPER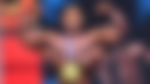 Nevertheless, this was not the first time when Lunsford recorded his wife's antics. Apart from sharing her silly moments, the bodybuilder proudly shares his wife's work as a fitness coach. Like a true partner, he takes his life's most well-thought decisions with his wife. A clear example of it was when he decided to opt out of Arnold Classic 2023.
Derek Lunsford remembered his wife's advice before Arnold Classic 2023
After securing second place in Mr. Olympia 2022, Lunsford was willing to participate in the second most important bodybuilding championship, Arnold Classic 2023. However, he wanted to take an informed decision with his wife. Lunsford revealed in a podcast that money and the title enticed him to participate, "Because it is a lot of money, as a professional in the sport, for someone that loves bodybuilding, Classic is a prestigious title. So, both those things were making me want to do the Arnold,"
ADVERTISEMENT
Article continues below this ad
Although his wife supported him with Arnold Classic 2023 participation, she had only one condition. Mabaga wanted her bodybuilder husband to be absolutely fit before appearing in the championship. The health factor heavily influences a bodybuilder's will to participate in a championship. Hence, realizing that participating immediately in another competition after Mr. Olympia can badly affect his health, Lunsford backed out.
ADVERTISEMENT
Article continues below this ad
Watch This Story:  A Journey to Millions Here's How Chris Bumstead Made Millions After Becoming Mr. Olympia in 2019
What do you think of the chemistry between Lunsford and his wife?