Entertainment
Yes, Nuno Bettencourt was playing with Rihanna at the Super Bowl – and was that a new N4 signature guitar?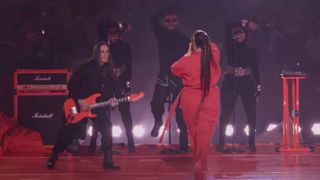 (Image credit: NFL/YouTube)

Last night, Super Bowl LVII took place at State Farm Stadium in Glendale, Arizona between the Philadelphia Eagles and Kansas City Chiefs. 
Along with being one of the sporting world's greatest annual spectacles, the Super Bowl also features a halftime concert that often attracts just as much – if not more – attention than the game itself.
This year, pop megastar Rihanna was given the responsibility of entertaining the countless millions of fans watching at halftime, and did so through a 13-minute collection of her biggest hits, some of which she performed from a floating platform.
Of course, live music performances don't get much bigger than the Super Bowl halftime show, so it's no surprise Rihanna called upon the cavalry for the event, assembling a stellar backing band that included none other than her longtime electric guitar collaborator, Nuno Bettencourt.
The pair's history goes way back to when Bettencourt was approached by musical director Tony Bruno, who informed the Extreme virtuoso that Rihanna had been keen to recruit him to her band's ranks. It quickly turned into one of the most memorable guitar hero/pop star collaborations in recent memory.
Despite their collaborative history, the Super Bowl show marked the first time Bettencourt and Rihanna had played together in almost a decade – and Bettencourt further celebrated their rekindled musical partnership by wielding a curiously eye-catching version of his Washburn N4 signature guitar.
Rihanna's band can first be seen at around the nine-minute mark in the official performance video, with Bettencourt emerging armed with what looks to be a new, red-finished version of his signature model.
Now, the Washburn N4 has become somewhat synonymous with a natural wood finish, though we'd wager a sleek red re-finish – and a color-matched headstock – was required to match Rihanna's own attire, and the rest of the stage's aesthetics, for the occasion.
Heck, there was even a custom Marshall guitar amp kitted out with a red cabinet. At least the unmistakable "N4" lettering was retained for the guitar's body.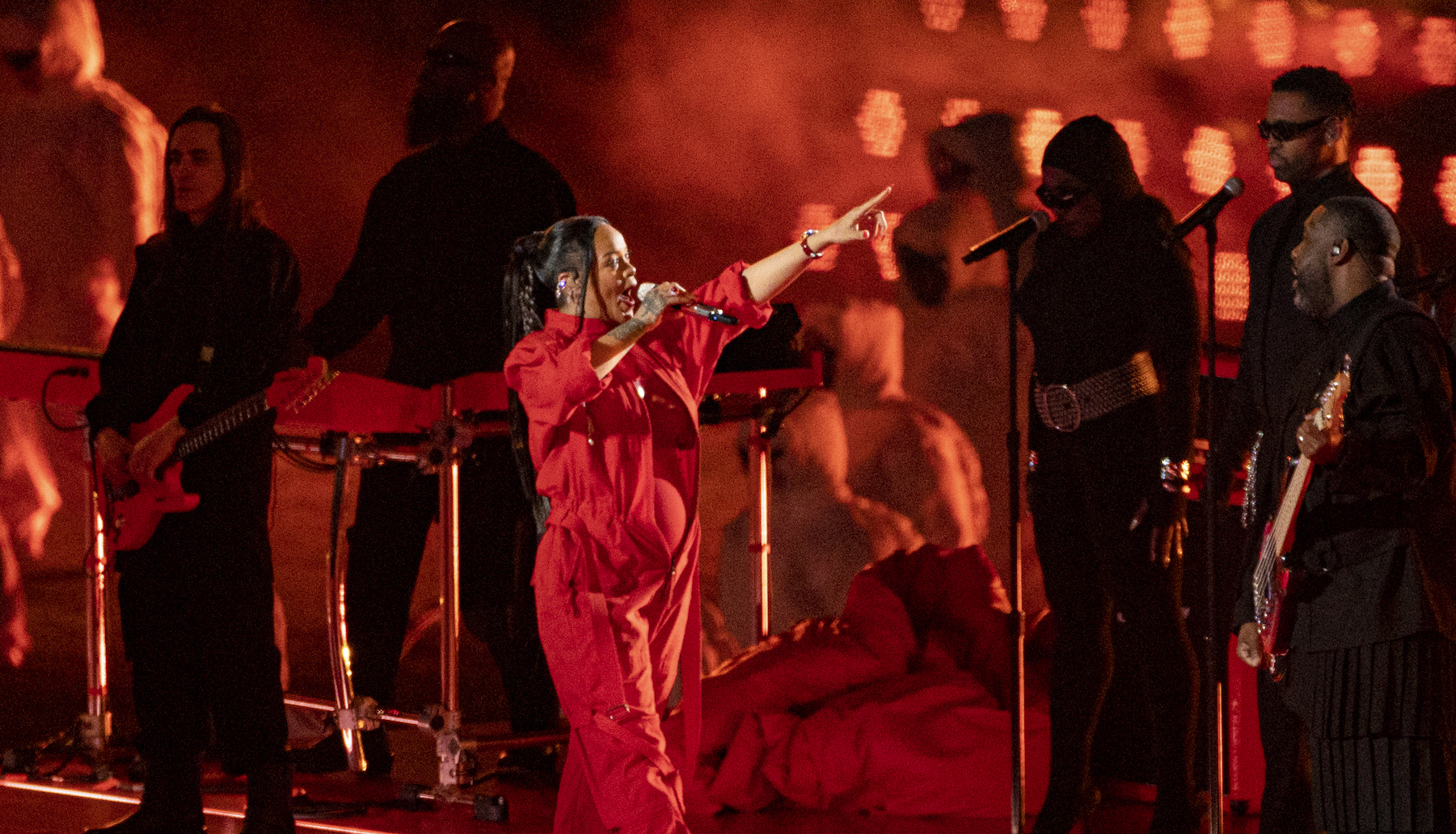 Bettencourt, for his part, has spoken publicly on numerous occasions about how skeptics often come away impressed by Rihanna and her band's live performances.
"Journalists or magazines – whether it be in Germany or in the States – they come and interview me, but they don't plan on staying for the show," Bettencourt told Guitar Interactive in a 2014 interview [via Blabbermouth (opens in new tab)]. "I always say, 'Just stay. Just stay for a couple of songs.' 
"Then," Bettencourt continued, "they stay for the night and then they always end up sending me a text or an e-mail message apologizing, [saying that] they didn't know that there was that much musicianship going on. The drummer's from Stevie Wonder. It's a real band, and nothing's on playback. We take the songs and we really play them; they're nothing like [they are on] the album."
In the same interview, Bettencourt also emphasized that the gig was not, as some believe, a musical walk in the park.
"It's a difficult gig," he said (opens in new tab). "The hats that you have to wear, feel-wise… You go from a basic pop song like Umbrella to a reggae song to a club track to even, like, a punk song and R&B stuff. So the amount of different textures and feels – and to have to play along with these incredible musicians who hear everything – it's definitely not a punch-in-the-clock-type situation for me. Live, it keeps you busy."
"Whatever people's perceptions are of whatever Rihanna is, it's definitely a different animal live – completely different," Bettencourt went on. "At first, even when I went to work with her, I was, like, 'Can she really sing?' A lot of times with the singers you hear now, there's a lot of that Auto-Tune element and you don't know who can really sing. But when I went to rehearsal, I could not believe how well she sang, and I could not believe how well she sings live."
Thank you for reading 5 articles this month*
Join now for unlimited access
US pricing $3.99 per month or $39.00 per year
UK pricing £2.99 per month or £29.00 per year 
Europe pricing €3.49 per month or €34.00 per year
*Read 5 free articles per month without a subscription
Join now for unlimited access
Prices from £2.99/$3.99/€3.49